Every once in a while you come across an idea so good it's hard to figure out why no one's acted on it before. That's how I felt hearing veteran jazz singer Roseanna Vitro's new album "The Music of Randy Newman." Working closely with veteran pianist and longtime collaborator Mark Soskin, Vitro infuses Newman's songs with her soul-deep feel for blues and gospel. The results are revelatory, insistently raising the question of why no jazz singer has previously tackled a Randy Newman project.
The album is very much a collaboration with a brilliant cast of musicians, including rising violin star Sara Caswell (heard recently with Esperanza Spalding's Chamber Music Society and Mark O'Connor's American String Celebration), percussion ace Jamey Haddad, and Vitro's working rhythm section tandem of bassist Dean Johnson and drummer Tim Horner. While "Sail Away" might not register immediately as a jazz session, it's an album that could have only been conceived and realized by artists powerfully connected to the jazz tradition. Vitro performs with the same cast (minus Haddad) on Saturday at the Musician's Institute as part of the Jazz Bakery's Moveable Feast concert series.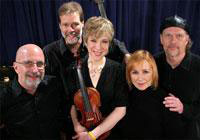 The Randy Newman Project. Photo from Musicians Institute web site.Whether interpreting Newman's early hits or latter day gems, Vitro and Soskin developed arrangements that flow from the contours of his incisive lyrics. From the opening track, which infuses the almost psychedelic "Last Night I Had a Dream" with a propulsive Latin groove, to the closer, a wrenchingly resigned "Losing You," she imbues each song with her highly personal narrative arc. "If I Didn't Have You," the Academy Award-winning theme from the 2002 hit "Monsters, Inc." ranks among the sweetest of buddy songs, a mood that Soskin captures by recasting it as an insinuating bossa nova. "I Will Go Sailing No More" from "Toy Story," is another highlight, a rueful ballad about aging gracefully and on one's own terms.
Vitro certainly isn't the first singer to explore Newman's music. His gimlet-eyed character studies bring to life a vast menagerie of American characters, and a gaudy array of artists have memorably recorded his songs, including Ray Charles, Etta James, Dusty Springfield and Peggy Lee (as Vitro reveals in her liner notes, Newman wrote the orchestration for Lee's 1969 hit "Is That All There Is?"). His knack for storytelling has made him Hollywood's favorite tunesmith, a three-time Oscar winner whose music has played an essential role in more than a dozen hit films including "The Natural," "Meet the Parents" and the "Toy Story" trilogy.
The fact that Newman's music is so well suited for movies should come as no surprise. Three of his uncles, nine-time Oscar winner Alfred Newman, Lionel Newman and Emil Newman, were esteemed Hollywood composers, and today his nephew Joey Newman and cousins Thomas Montgomery Newman and David Newman are successful film and television composers. Raised as a child in New Orleans, he absorbed the city's rhythms and cadences. It's no coincidence that his song "Louisiana, 1927," from his landmark 1974 album "Good Old Boys" became an anthem for New Orleans in the wake of 2005's Hurricane Katrina. For Vitro, the combination of wit, sentiment, bruised cynicism and openhearted vulnerability made Newman's songbook an irresistible target.
"I felt so at home singing Newman's songs," Vitro says. "I could make three albums of his music. If you look at the American Songbook, most of that work was created for film and theater. He's actually expanding the American Songbook. Some of the greatness has gone under the radar, because it's being sung by a big wooly animal or created for an animated film."
DETAILS
When: Saturday, June 18 at 8:30 p.m.
Where: Musicians Institute Concert Hall, located at 1665 McCadden Place Hollywood
Cost: $25 ($30 at door), students $15
Tickets: Available online
More Information:
Web: Musicians Institute
Tel: 800-255-7529
Recommended Recording:
____________
Jazz Pick of the Week is written by Andrew Gilbert. Andy is my brother and a prolific freelance writer whose primary focus is Jazz. You can find his articles in the Los Angeles Times, San Jose Mercury News, JazzTimes and many other publications. He will periodically contribute other articles to Curating Los Angeles and share his expertise and passion for the southland Jazz scene.