To mark the 30th anniversary of Rainer Werner Fassbinder's (1945 – 1982) untimely death at age 37, the American Cinematheque has put together a 16-film retrospective of the German film director's work. The program will include such films as Love is Colder Than Death (1969), The Merchant of Four Seasons (1971), Lola (1981), and Veronika Voss (1981), among others.
Fassbinder was a central figure in the New German Cinema, a movement that spanned about 20 years from 1962 to the early 80s. He was known for his compassionate portrayals of people unwanted by society for reasons beyond their control, his prolific output, and the very public and often provocative way in which he led his private life.
His passing at the age of 37 brought to a close an influential period in German cinema. According to Thomas Elsaesser, an international film historian and professor of Film and Television Studies at the University of Amsterdam, Fassbinder's "…sudden death from a vicious combination of drugs and sleeping pills in June 1982 symbolically marked the end of the most exciting and experimental period the German cinema had known since the 1920s."
This is a rare opportunity to see some of these films, since many are not available in home viewing formats within the United States. Trailers available on the American Cinematheque web site.
DETAILS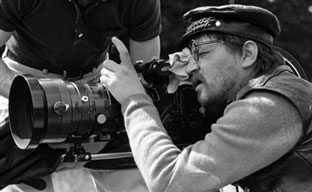 Rainer Werner Fassbinder. Photo from American Cinematheque web site.When: May 31 through June 14, 2012
Where: American Cinematheque at the Aero and Egyptian Theatres
Aero Theatre · 1328 Montana Ave at 14th Street Santa Monica, CA
Egyptian Theatre · 6712 Hollywood Blvd Los Angeles, CA
Tickets: Available online (refer to the online schedule for times and locations of each screening)
Buy tickets for the Aero Theater
Buy tickets for the Egyptian Theater