Today the space shuttle Endeavour is on its final journey. According to NASA, it left Edwards Air Force Base at 8:17 a.m. PDT to begin a four-and-a-half hour flyover of northern California and the Los Angeles basin.
My wife and I drove to the Lawrence Hall of Science, which is located in the hills above the UC Berkeley campus, to get a good view. Several hundred people were there too  – with kids, dogs, cameras and lots of memories of all the shuttle missions that took place over the years. After waiting for about an hour, the Endeavour appeared from the south. All I can is wow! It was so exciting to see this incredible machine make several loops around the San Francisco Bay, accompanied by an escort fighter jet. Definately the closest I've ever gotten to one of the shuttles.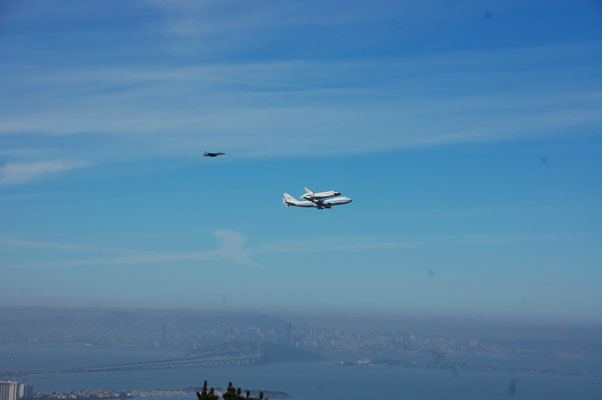 Space shuttle Endeavor and fighter jet escort flying over the San Francisco Bay. Photo shot from Lawrence Hall of Science at UC Berkeley.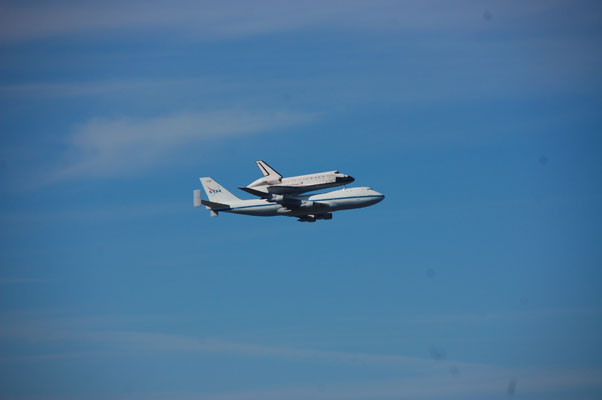 Space shuttle Endeavour flying over the San Francisco Bay. Photo shot from the Lawrence Hall of Science.
If you grew up like I did watching the shuttles carry our astronauts into space, you can't help but be moved by this historic event. Endeavour is now heading towards LA, where it will fly by a number of landmarks at low altitude before landing at LAX. If you can get outside to see it, I highly suggest you do.
Information on the LA flyby: