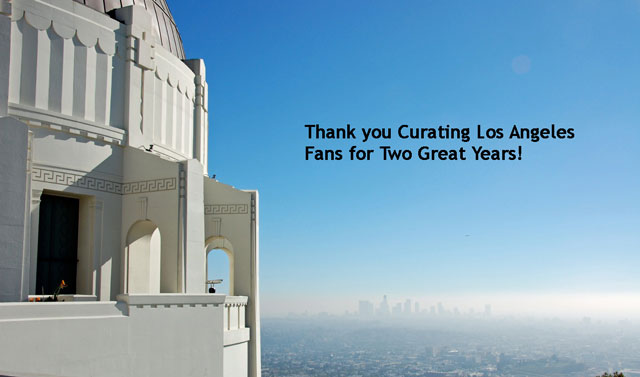 On September 17, 2010 I launched Curating Los Angeles (CLA). I remember publishing that first blog post and wondering whether anyone would find this site and read what I wrote. I also had no idea how long I'd be at this – would I continue after the first couple of months? 
During the past two years more and more people have joined the CLA community and added their voices to the conversation – sharing what they love about LA and learning from others. That involvement is really exciting and helps inspire me to continue writing about my experiences in the city, sharing photographs and letting you know about some of the most interesting events taking place around greater LA.
Today Curating Los Angeles is no longer just a blog. It has expanded to include a Facebook page, Google+ page, and Twitter feed. No matter which platform you follow us on, your interest in all that we do here at CLA is greatly appreciated.
I created Curating Los Angeles because I love the city – the people, the neighborhoods, the arts and the diverse sub-cultures that make LA such a fascinating place to live and work. Thank you for joining me on this adventure and please tell your friends about us.
Jim Gilbert
Publisher