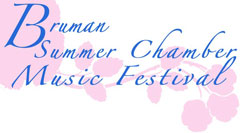 The UCLA Center for 17th- & 18th-Century Studies is once again co-sponsoring the Henry J. Bruman Summer Chamber Music Festival. Held over a two-week period beginning next week, the festival will feature members of the iPalpiti Soloists and the Armadillo String Quartet in four free concerts at UCLA.
Founded in 1997 by the late Henry J. Bruman, a UCLA geography professor, the festival is dedicated to bringing this much loved musical form to the campus community and beyond. As in years past, the 2012 program is characterized by a diverse group of composers whose music will be played by a highly talented group of musicians from Los Angeles and other cities around the world.
2012 Summer Program
Tuesday July 17 — iPalpiti Soloists

Zoltán Kodály Sonata for Solo Cello, op. 8
Eugène Ysaÿe
String Trio, Le Londres, op. 19
Friedrich Kuhlau
Flute Quintet no. 2 in E Major, op. 51
Thursday July 19 — iPalpiti Soloists

Anton Bruckner Adagio from String Quintet in F Major WAB 112
Ludwig van Beethoven String Quintet in E-flat Major, op. 4
Anton Bruckner
Intermezzo for String Quintet in D Minor WAB113
Tuesday July 24 — Armadillo String Quartet

Wolfgang Amadeus Mozart Adagio and Fugue in C Minor, K. 546
Peter Schickele
String Quartet no. 6, Shadow Mountain (2012)
Robert Hurwitz
Variations on Robert Schumann's Träumerei from Kinderszenen op. 15
Wolfgang Amadeus Schwartz
Tema con Variazione from "The Monster and the Maiden" String Quartet
Thursday July 26 — California String Quartet
Franz Joseph Haydn String Quartet no. 63 in B-flat Major, op. 76, no. 4 Hob. III:78, Sunrise
Sergei Taneyev String Quartet no. 2 in C Major, op. 5
DETAILS
When: July 17, 19, 24 and 26
All performances begin at 12 pm and run approximately one hour.
Where: Glorya Kaufman Dance Theater, 200 Glorya Kaufman Hall, UCLA
Click here for maps and directions
Admission: These concerts are free and open to the public – no tickets required. Seating is limited and available on a first-come, first-served basis.
More Information:
UCLA Center for 17th- & 18th-Century Studies Concert Program