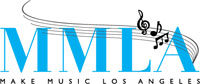 Every year on June 21st, the day of the summer solstice in the northern hemisphere, people in 460 cities in 110 countries celebrate music and community through a series of free, outdoor concerts and performances. These international events are based on and inspired by France's Fête de la Musique, a national music festival inaugurated in 1982 by the French Ministry of Culture.
Now for the first time, Los Angeles is joining the festivities with Make Music Los Angeles (MMLA). This much anticipated, do-it-yourself event will take on the local flavor of neighborhoods across LA County, as amateur and professional musicians alike share their love of music with each other and the community. Whatever your age and taste in music, you're sure to find a performance that speaks to you. From Classical to Hip-Hop and Folk to Funk, just to name few genres represented at MMLA, attendees will experience an eclectic range of music that reflects the diversity of Los Angeles.

DETAILS
When: June 21, 2012
Where: Performances will take place in parks, on sidewalks, at schools and in plazas, among other locations around Los Angeles County. Click here for a complete list of events and locations.
Cost: Free
More Information:
How to Participate
FAQ