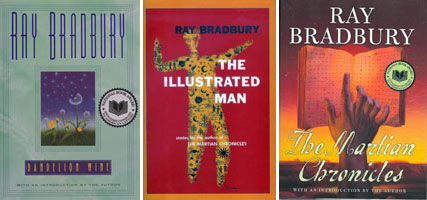 While news of author Ray Bradbury's death yesterday at age 91 is already receiving widespread attention by national and international media outlets, I want to add my voice to the many tributes that have been written about a master of the science fiction / fantasy genre. Bradbury was long one of my favorite local writers. I was always very proud that he called Los Angeles home and would have loved to interview him for this site. While that never happened, I did meet him at a LA area event many years ago and recall how excited I was just to shake his hand.
I grew up reading many of Bradbury's books and remember spending hours at A Change of Hobbit bookstore on Westwood Boulevard pouring over his works and finally selecting a title to purchase and bring home. I still have every one of his books I bought as a teenager and look forward to sharing them with my two boys when they get a little older.
Bradbury was a master of prose – a writer who captivated my imagination with his wonderful coming of age tale, Dandelion Wine, and challenged me with his vision of human weakness and the shameful ways in which we all too often treat "the other" in The Martian Chronicles. His highly inventive stories transported me to others places and times, while at the same time remaining relevant to my life in the here and now.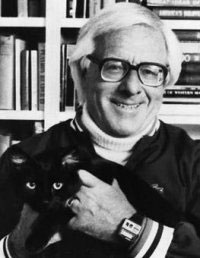 While we have lost a great writer and a passionate voice for a more humane future, Ray Bradbury's legacy will certainly live on in his many literary, theatrical, film and television works. I know that my bookshelves are all the richer for having his titles among my collection.
To learn more about Bradbury's life and work, check out this excellent tribute written by John Rogers of the Associated Press.  You can also learn more by visiting Bradbury's own web site. I also encourage you to share your thoughts about Bradbury in the comments below.
Recommended Works