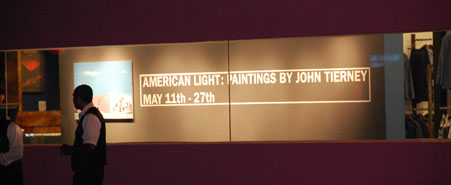 Last Thursday night I attended the opening of American Light: Paintings by John Tierney at the Paul Smith shop on Melrose. Unlike other art events I've experienced in the past, this one had a decidedly Hollywood / fashion industry vide. As the invitation only crowd browsed Paul Smith's latest collection, waiters clad in all black served wine and British beer to the artist and his son Ben, Alan Aldridge, Josh Duhamel, Stacy Ferguson (aka Fergie), Ryan Philippe, Diana Aragon, Abbie Cornish and Mira Sorvino, among many others.
While I have to admit that I didn't recognize any of these celebrities at the time, it was obvious I was surrounded by people who work in the entertainment industry, as well as others who were quite at home in a store where you can easily drop a couple Benjamins on a pair of shorts. Definitely not my usual scene.
Although I had a lot of fun hanging out at this event and meeting some of the other guests, the real highlights for me were seeing the paintings first hand and meeting John Tierney in person. If you read my original story about the painter, you'll know that I admire his work for its vibrant colors, the interplay of light and shadow, and the juxtaposition of form and space. Viewing the actual paintings for the first time, as opposed to their online counterparts, heightened their impact and clearly demonstrated the skill with which Tierney creates his artwork.
One of the things I find so gratifying about publishing Curating Los Angeles is meeting interesting people and then sharing what I learn about them with my readers. That was certainly the case with John Tierney, a gentleman I never would have met had his son not sought me out and introduced me to his father's work. While Tierney and I didn't have long to chat at the show, just having the opportunity to say hello in person and share a few words about his paintings really made my day.
If you like the sampling of Tierney's work that I've shared in my posts, I highly recommend you visit the Paul Smith store. It's a novel setting in which to view original works of art, but one that seems appropriate given the number of times Tierney has treated the store itself as his subject.
DETAILS
When: May 11 – 27, 2012
Where: Paul Smith Los Angeles, located at 8221 Melrose Avenue Los Angeles
More Information:
Available at the Paul Smith web site