My family loves the REDCAT International Children's Film Festival. The selection of shorts is always excellent, the audience's energy and enthusiasm is infectious and the theater offers an intimate place to immerse yourself in wonderful stories from around the world.
I highly recommend you attend one or more screenings during the festival's two-weekend run. If the films are anything like the ones I've seen in the past, you won't be disappointed.
To figure out what films are of interest to you and your family, follow the links below. There you'll find overviews of each program, as well as age recommendations that will help you decide which shorts are appropriate for your children.
2012 Festival Screening Schedule
Saturday, May 5
12:00pm Birds of a Feather
1:30pm Planet Kid
3:00pm Once Upon a Time
Sunday, May 6
Nick Family Fun Day
12:00pm Nick Jr.
3:00pm Nickelodeon
Saturday, May 12
12:00pm Touch My Heart: Gentle Films on the Big Screen
1:30pm A Journey Beyond
3:00pm Yes I Can: Kids Come of Age
Sunday, May 13
12:00pm Fire and Ice
1:30pm Wild Ride
3:00pm Fright Delight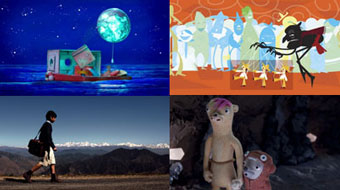 Stills from: Mungge – Not Again!; The Road Home: Dodu: and El Salon Mexico.DETAILS
When: Saturday, May 5, 2012 to Sunday, May 13, 2012
Where: REDCAT Theater, located at 631 West 2nd Street, Los Angeles, CA 90012 in the Walt Disney Concert Hall complex. REDCAT has its own street entrance on 2nd Street.
Tickets: Available online