During the past several decades, the Los Angeles County Metropolitan Transportation Authority (Metro) has steadily expanded the region's bus and rail systems. Recognizing that art can engage transit riders, beautify public space, and reflect the diverse communities that use these systems as well as the region's rich history, Metro initiated an ambitious public art program in 1989 that has become an important component of its planning and construction programs.
According to Metro, during the intervening decades, it "…has commissioned more than 300 artists to incorporate art into a wide array of transportation projects throughout Los Angeles County. Artists are selected through a peer review process with community input and all works are created especially for their specific transit-related sites." Metro has paid for these works through a combination of public and private sector monies.
An excellent example of a work created as part of this public art program is found at the Metro Red Line Westlake / MacArthur Park station. There, Metro has installed a beautiful mural called MacArthur Park, Urban Oasis designed by LA native Sonia Romero, which was named one of the best public arts projects in the United States by Americans for the Arts.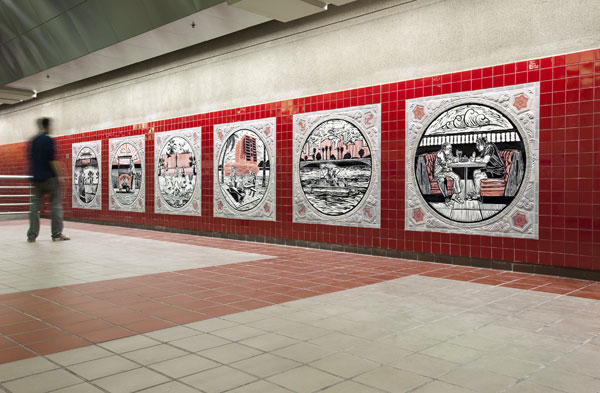 MacArthur Park: Urban Oasis by Sonia Romero. Photo from Metro web site.
Metro provided me with a brief write-up of this mural, a short artist bio and a video of Romero explaining her creative process and highlighting some of the details found in the mural's 13 panels. You'll find all three below.
For MacArthur Park: Urban Oasis, Romero produced original linoleum cut artworks that rendered evocative scenes from the landmark Los Angeles park and adjacent historical buildings. The artworks were translated into thirteen hand-glazed porcelain mosaic panels by highly specialized artisans at Mosaika Art & Design. Echoing the park's bisection by Wilshire Boulevard, the mural panels were divided into two parallel facing walls at the station's mezzanine level. The artwork imagery reflects daily life in the iconic landscape on both sides of the park. More importantly, they connect Metro customers with the area's deep historic roots as riders journey through the station. "I found the story of the park and its fluctuating energy stimulating and intriguing," says Romero. "I developed my concept around the idea that MacArthur Park is an urban oasis. It was my goal to create a public work, which celebrated the 120-year-old history of MacArthur Park and the people who use it."

Romero holds a BFA from the Rhode Island School of Design and is a graduate of the Los Angeles County High School for the Arts. Her exhibitions include the inaugural solo exhibition at the Vincent Price Art Museum at East Los Angeles College, a solo show at Avenue 50 Studio, and a printmaking retrospective at Self Help Graphics. Romero also recently completed a public art piece, Tierra del Sol, which hangs in the entry hall of the Dennis P. Zine community center in Canoga Park. Along with offering community art workshops for the HeArt Project, she has also worked with youth to complete four large-scale art installations at East LA swimming pools for the LA County Arts Commission.

If you've never been to this station, I hope this story encourages you to visit. For those who want to see more of the public art that graces our growing transit network, consider taking a free art tour, which are offered the first Thursday, Saturday and Sunday of every month. The tours are round-trip and last approximately 2 hours. No reservations are required. For more information, click on the "Art Tours" tab when visiting the Metro Art web page.