Given the breadth, dynamism and creativity of the Los Angeles arts scene, it sometimes seems strange when the city, or some organization, designates a particular period of time as "art month" or "art weekend". Isn't every week art week in LA? The sheer variety of arts related events taking place in and around the city during any given week sure makes it feel that way to me.
And yet, from a marketing perspective, I understand the desire to group events – to create the critical mass required to stoke the public's interest and convince Angelenos that they should choose to do one particular thing over all the others going on at the same time. So it comes as little surprise that the next few days have been branded Art Weekend Los Angeles and that it's taking place during the city's annual Los Angeles Arts Month. Here's a summary of what's happening around town between now and this coming Sunday.
2012 Los Angeles Art Show
Art Weekend Los Angeles is a series of events revolving around the visual arts. It includes three art fairs and a curated, self-guided tour of selected art galleries and cultural institutions across the city.
This year, the venerable LA Art Show becomes three independent exhibitions:
The Los Angeles Fine Print Fair, which includes "…original and fine prints in all techniques; from woodcut, engraving, and etching to mezzotint, drypoint, and lithography." Visitors to this show will also find The International Vintage Poster fair, which will feature dealers from France, England, Canada and the United States selling posters in such styles as "Art Nouveau, Art Deco, and Mid-century Modern dating from the 1890's Belle Époque to the stylized 1930s, and on through the Atomic Age."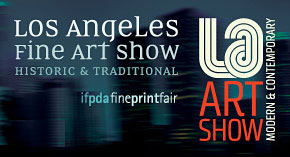 DETAILS
When:
Thursday, January 19, 11am – 7pm
Friday, January 20, 11am – 7pm
Saturday, January 21, 11am – 7pm
Sunday, January 22, 11am – 5pm
Where:
Los Angeles Convention Center
West – Hall A & B
1201 South Figueroa Street
Los Angeles, CA 90015
Tickets: Available online
More Information:
Participating Galleries
Floorplan
Directions

"Eleven Cassettes" by Johnny Taylor. "Card Players" by America Martin. "MaineCycle 19" by Ann Patrick O'Brien.
Affordable Art Fair Los Angeles
Another exciting event planned for this coming weekend is the Affordable Art Fair, which distinguishes itself from other high profile exhibitions by presenting original, contemporary art priced from $100 – $10,000, with half of the work under $5,000. Attendees to this show will not only find a range of artwork, but also educational programming and kids workshops. This year marks the first time this exhibition comes to the west coast.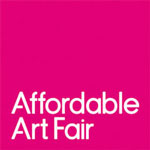 DETAILS
When:
Thursday, January 19, 12pm – 8pm (Free admission from 4pm – 8pm)
Friday, January 20, 12pm – 8pm
Saturday, January 21, 11am – 8pm
Sunday, January 22, 11am – 6pm
Where:
The Event Deck at L.A. LIVE
Visitor entrance: Georgia Street between Chick Hearn Court and W. Olympic Boulevard
Parking entrance: 1005 West Chick Hearn Court
.
Tickets: Available online
More Information:
Programming Schedule
Children's Activities
Art Weekend Los Angeles Partners
In addition to the above fairs, a number of LA art institutions are partnering with Art Weekend Los Angeles, including MOCA Grand, MOCA Geffen Contemporary, and REDCAT. Invited galleries are: CB1 Gallery, Morono Kiang Gallery, PYO Gallery LA, ADC Contemporary Gallery, L2kontemporary, Charlie James Gallery, Jancar Gallery, among others.
Of Particular Note:
PYO Gallery Presents Seung Hoon Park: Travel Log – Italy, The Story of Three Cities
Japanese American National Museum presents Drawing the Line
Kenneth Anger Icons @ MOCA Grand Avenue
Segalove + Duane + Mogul @ Jancar
Under The Big Black Sun @ The Geffen Contemporary at MOCA
For more information about these and other exhibitions, films, and installations, visit the Art Weekend Los Angeles web site.