When Justin Katz and his San Francisco-based band Rosin Coven set out to celebrate Edward Gorey's whimsically macabre aesthetic in 1999, little did they know that the event would grow into a beloved Bay Area tradition (one that has recently spread to Los Angeles). But that is exactly what the Edwardian Ball is today.
Over the years the affair has evolved into an elegant and fanciful multi-media festival that fuses art, theater, fashion, music, and technology and brings to life the world that author and illustrator Edward Gorey (1925-2000) created during his prolific career. Now co-hosted by Rosin Coven and the Vau de Vire Society, a self described avant-cabaret community from San Francisco led by Mike and Shannon Gaines, the Edwardian Ball provides a venue that fosters creative self expression and audience participation. Check out this video of last year's San Francisco Ball to see what I mean.
When I spoke with Justin Katz and Mike Gaines a few days ago to learn about the Ball's history and what they have planned for the upcoming third anniversary of its LA incarnation, they couldn't contain their excitement. "The Los Angeles show has a fresh, new feeling – a sense of wonder. There is a charge in the air because the show is still new," compared to the one in San Francisco, Katz said.
At previous LA Balls, Gaines said he "was floored that about 95% of the people attended in costume – either Gorey or Edwardian. The love affair began right there. It's nice to know we don't have to change anything. We are who we are and we're received so well."
Although the Edwardian Ball has become an elaborate and extravagant affair, the playful, artistic kernel that defines its spirit is the minimalist approach to storytelling that was Edward Gorey's forte. "He has such an understated way of delivering a rich world," Katz said. "It is so inviting to a group of artists and musicians to animate, both literally and figuratively, his work. He gives you almost nothing, but implies everything."
That perspective is evident in the way Katz and Gaines approach their interpretive retelling of an Edward Gorey story – the much-anticipated centerpiece of every Edwardian Ball. This year the Ball features a live production of Gorey's The Iron Tonic with original music. As is their custom, the Vau de Vire Society will handle the staging and dramatic presentation of the half-hour work, while Rosin Coven will provide the narrative and music.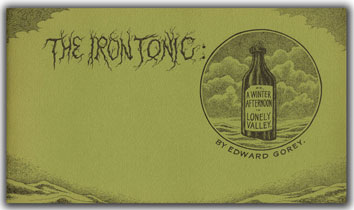 "This year we're paying homage to Gorey's illustrations found in the book," Mike Gaines said. "We'll present a three dimensional show by projecting the illustrations on screen and melding them into the live action scenes."
In addition to The Iron Tonic, attendees will be treated to a fashion catwalk that pays tribute to Los Angeles as a fashion mecca, a vastly expanded vendor bazaar featuring an array of Edwardian themed haute couture, and Midway gaming. I'm told there will also be several new elements, including a Hall of Fine Art & Natural Wonders and an animated FLIP-BOOK photo booth.
A diverse group of performers from the northern and southern California underground music, dance and performance art scenes add to the event's creative frission.
At the moment, the list of participants includes:
Rosin Coven
Vau de Vire Society
Plus
Dark Garden
Delachaux
DJ Xian (LADEAD)

Flynn Creek Circus

F'risqué

Jill Tracy

Kinetic Steam Works

Shadow Circus Creature Theatre

Shovelman

Emcee Vegas E. Trip
Given the breadth and sheer pageantry of the Edwardian Ball, it promises to be a highlight of LA's expansive arts and culture scene this year. Whether you're an Edward Gorey fan, ballroom dancer extraordinaire, steampunk aesthete, fashionista, or creator of wildly inventive costumes, I highly recommend you consider attending the Ball. I'll be there decked out in some fanciful getup, although I've yet to figure out exactly what it will entail.

Photos Courtesy of The Edwardian Ball"The essence of the event is people's creative participation," Justin Katz said. "It's very inclusive and very permissive. People are inspired to outdo themselves." Mike Gaines added, "Anything you decide creatively to dress yourself in is welcome and appreciated."
I hope to see you there!
FULL DISCLOSURE: I will attend the Edwardian Balls in San Francisco and Los Angeles as a guest of Rosin Coven and the Vau de Vire Society.
DETAILS (Note – Updated Information as of 1/15/12)
When: TBD – see update below
Where: TBD – see update below
Tickets: See update below
Age range: This event is 18+, though under 18 are welcome with an adult companion.
More Information:
About the Ball
Costume and Fashion Resources
Email: queries@edwardianball.com
A Selection of Edward Gorey Books: