I've subscribed to Metropolis Magazine for years and always appreciate when it publishes an article on the Los Angeles design scene. So I was really excited earlier this week when I sat down with the December 2011 issue and found a profile of Koning Eizenberg Architecture titled The Right Touch, by Los Angeles Times architecture critic Christopher Hawthorne.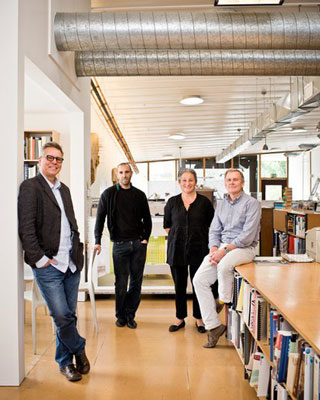 From left: Hank Koning, Nathan Bishop, Julie Eizenberg, and Brian Lane, in the sunny Santa Monica, California, offices of Koning Eizenberg Architecture. Photo by Dave LauridsenIn the opening paragraph, Hawthorne makes the case that this Santa Monica based firm, founded in 1981 and led by husband and wife team Julie Eizenberg and Hank Koning, "has settled into an unassumingly prominent position in the Southern California architecture scene over the last 15 years." He spends the rest of the article eloquently making the case why that is so.
According to Hawthorne, "Koning Eizenberg is a quintessential LA architecture firm…." Why? Because like other forward-looking émigrés before them [Koning and Eizenberg are both from Australia], such as Richard Neutra, Rudolph Schindler and Frank Gehry, their "taste for combining frugality and verve in the same project, and for juxtaposing serious architectural ideas with informality and references to Pop Art, flows directly out of a singularly LA tradition."
As one would expect from a top tier design publication, the illustrations and photographs associated with this article in Metropolis are as important as the text. They bring to life the selection of recent projects that Hawthorne focuses on in the article, including the Children's Institute headquarters in Echo Park, the Best Western Hollywood Hills Hotel, the Hancock Lofts in West Hollywood, John Adams Middle School in Santa Monica, and a pool house and compound in South Pasadena. According to Hawthorne, each of these projects illustrate how "their work wraps joy, smarts, improvisational flair, and resourcefulness together in the same colorful package."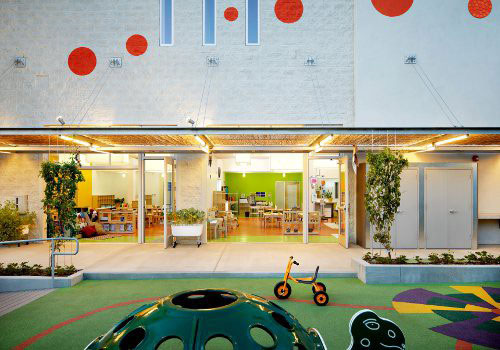 Children's Institute Los Angeles. Photo by Eric Staudenmaier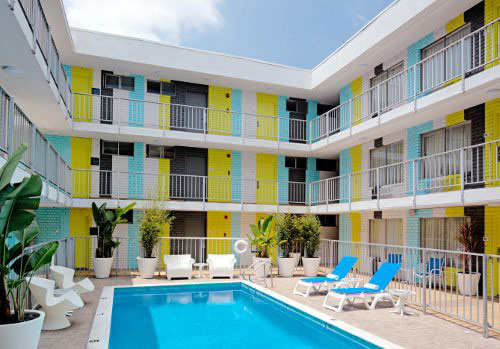 Best Western Hollywood Hills Hotel. Photo by Tim Street-Porter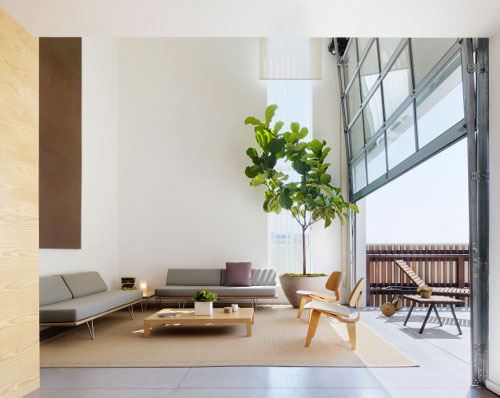 Hancock Lofts – West Hollywood. Photo by Eric Staudenmaier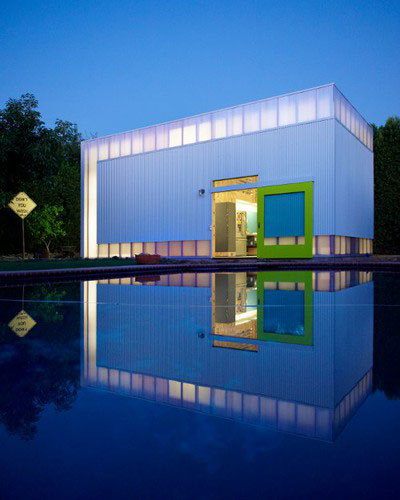 Pool house and compound – South Pasadena. Photo by Eric Staudenmaier
Hawthorne is particularly sensitive to and interested in the ways in which people use buildings and interact with the built environment. It's therefore not surprising that he responds so favorably to Koning Eizenberg's work and design philosophy (see my August 30th post for another example of how Hawthorne sees usability as integral to good design).
Koning Eizenberg have articulated their philosophy of practice in words as well as in the built form. In their book titled Architecture Isn't Just for Special Occasions, the authors state: "We like people. We like it when people get a kick out of architecture or when they question design motives. We like the ad hoc, the discovered, the legitimization of the unexpected." I love that perspective and it's clearly visible in the firm's playful, exuberant designs.
Recommended Books