Pianist Kenny Werner is best known as a longtime accompanist of harmonica legend Toots Thielemans, who's still playing unspeakably beautiful and sophisticated music at the age of 89. But Werner is also one of jazz's most prodigious bandleaders.
An improviser of fearless temperament, he has a gift for transforming personnel who look interesting together on paper into sensational ensembles. Featuring an all-star quintet with tenor saxophonist David Sanchez and trumpeter Randy Brecker, his latest CD "Balloons" (HalfNote) is a case in point.
On Friday he opens a three-night run at Catalina Bar & Grill with essentially the same band, though the album's bassist John Patitucci is replaced by bassist Scott Colley, who's forged a singularly intuitive rhythm section in tandem with Mexican-born drummer Antonio Sanchez (they also play together widely with Pat Metheny and Gary Burton).
At first glance, "Balloons" looks like a blowing session, with four tunes each running more than 11 minutes. Rather than serving as launching pads for extended improvisational flights, Werner's compositions provide the players with lustrous, detail-rich soundscapes that can take on cinematic dimensions.
"The older I get the more I'm interested in music that sounds like composition," Werner says. "For me it's a journey. You hear these sections change into something else, and they take on life as extended compositions. I've never been a fan of records with a bunch of solos. It might be impressive, but it's not interesting to me as a piece of music."
Werner established himself as an uncommonly responsive accompanist in the 1970s and 80s through his performances and recordings with an array of jazz giants, from Joe Henderson, Jack DeJohnette and Dave Holland to Archie Shepp, Lee Konitz and John Abercrombie. Thielemans loves the way that Werner keeps him on his toes.
"Look at the pianists I've played with, George Shearing, Oscar Peterson and Bill Evans, Shirley Horn, and Fred Hersch," Thielemans said in a conversation shortly after Werner served as music director for a Carnegie Hall celebration of his 85th birthday. "Kenny Werner is part of that club. He'll make a harmonic turn and push me over the cliff sometimes, oops! Ah, I found the water anyway."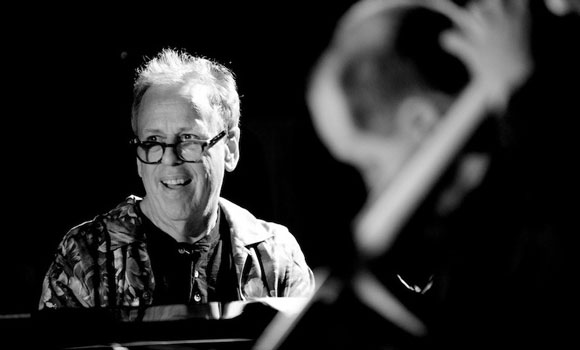 Photo via Kenny Werner's web site.
For much of his career as a bandleader, Werner was known for a series of volatile trios. But he's increasingly recognized as a composer of mysteriously beautiful themes. Last year he released his most ambitious and emotionally charged album "No Beginning No End" (HalfNote), an extraordinary suite for woodwinds, voices, strings, and saxophonist Joe Lovano and vocalist Judi Silvano.
Initially commissioned for an MIT performance, the suite turned into a loving and heartbreaking tribute to Werner's daughter Katheryn, who was killed in a car crash in 2006. The album earned Werner a Grammy nomination and a 2010 Guggenheim Fellowship Award.
Where some composers work in the Ellingtonian tradition, designing parts with specific players in mind, Werner says he doesn't have a gift for writing for specific personalities. "You write something, set up some situations and leave it open. Because of the guys you pick you know it's going to be beautiful."
DETAILS
When: Friday, December 9th and Saturday, December 10th at 8:00 pm and 10:00 pm and Sunday December 11th at 7:30 pm and 9:30 pm
Where: Catalina Jazz Club, 6725 West Sunset Blvd. Hollywood, CA
Cost: $22 – $30. Dinner or two drinks minimum required in addition to the tickets.
Tickets: Available online
More Information:
Web: www.catalinajazzclub.com
Tel. 323-466-2210
Recommended Recordings (CD and MP3 versions):
____________
This article is written by Andrew Gilbert, my brother and a prolific freelance writer whose primary focus is Jazz. You can find his articles in the Los Angeles Times, San Jose Mercury News, JazzTimes and many other publications. He will periodically contribute other articles to Curating Los Angeles and share his expertise and passion for the southland Jazz scene.