I recently found a great web site called the Big Map Blog that specializes in – you guessed it – maps. It's run by Paul Fehler, a St. Louis, MO based documentary film producer and sign-maker who studied cartography and geographic information science in college and, not surprisingly, loves maps.
According to Paul, "there's always been two things I wanted from a map blog, and rarely got: (a) enormous maps, and (b) access to the full-resolution file." That's exactly what you'll find at the Big Map Blog. I should mention that access to the files won't cost you anything, making this a truly valuable resource for researchers and amateur map enthusiasts alike.
The first thing I did when I came upon this site was search for maps of Los Angeles, southern California and California. I quickly found a wonderful selection covering our region and spent a good hour pouring over the clear images, comparing one to another.
Click to enlargeIf you're fascinated by maps and spend time seeking them out and studying them, you know they're often works of art that depict historical events, as well as topographical details and infrastructure. This is true of the Los Angeles and California maps I found on the Big Map Blog. To see an example, take a look at this beautiful map of "Los Angeles as it Appeared in 1871," which was published in 1929.
While all the maps on this site are fascinating to look at and study, the Birdseye view maps particularly intrigue me. As their name implies, these maps portray a region from above, offering a 3D-like quality that makes them highly engaging and full of interesting details.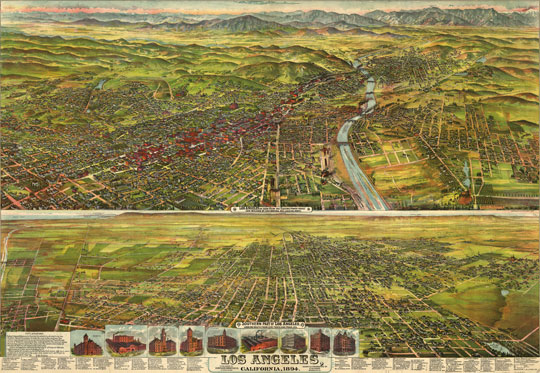 B.W. Pierce's birdseye map of Los Angeles from 1894.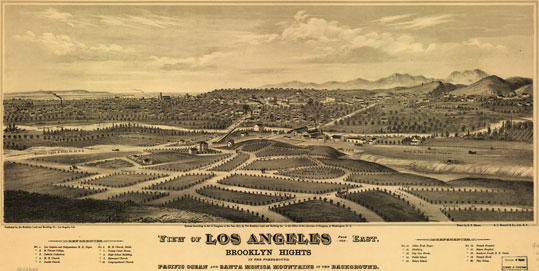 E.S. Glover's birdseye Map of Los Angeles from 1877
Paul told me he believes "…the LA maps are some of the finest on the site (with many, many more to come)." I look forward to watching this collection grow over time and sharing select additions with you as they become available. In the meantime, I encourage you to visit the Big Map Blog. I think you'll like what you find.