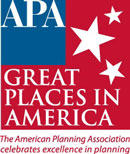 In case you hadn't heard, last month the American Planning Association (APA) designated two locations in Southern California as Great Places in America for 2011. One was named a Great Street and the other a Great Public Space.
The APA Great Places Program "…celebrates places of exemplary character, quality, and planning. Places are selected annually and represent the gold standard in terms of having a true sense of place, cultural and historical interest, community involvement, and a vision for tomorrow."
The Great Street that made the top 10 list for the year is the 2.8-mile stretch of Santa Monica Boulevard that runs through The City of West Hollywood. For anyone who remembers what the street was like before the city gained control of the right of way from Caltrans in 1999, that designation is quite an accomplishment.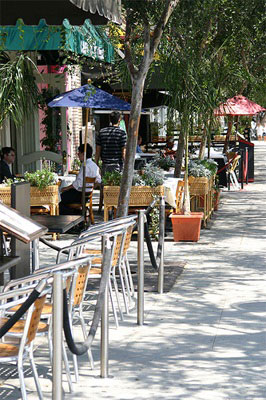 Santa Monica Boulevard. Photo from City of West Hollywood's web site.Before the revitalization effort began, that segment of Santa Monica Boulevard was auto oriented and visually marred by an abandoned rail line running down the middle and unsightly overhead power lines. Today, this reconstructed, lively main street embraces pedestrians and incorporates a range of sustainable development practices, such as dedicated bicycle lanes along its west end and bike parking throughout; high-density, multi-family housing, which provides a large consumer base to support the boulevard's retail establishments; and the solar-powered Sierra Bonita Affordable Housing Project, featuring a roof deck garden, shady bamboo clusters, and drought-tolerant landscaping.
The Boulevard, as many locals refer to it, also supports a lively street scene that is enhanced by numerous restaurants, public art, and several high profile annual events such as the Russian Festival, Halloween Carnival (attracting 500,000 costumed revelers), the Christopher Street West annual LGBT parade, and a Book Fair. "Santa Monica Boulevard runs through the heart of West Hollywood and has been a destination for thousands of tourists from around the world and at the same time home of a diverse, bohemian and creative community," said West Hollywood Mayor John J. Duran.
The other Southern California location recognized this year by the APA's Great Places Program is Fairmount Park in Riverside, which was named a top 10 Great Public Space. Like Santa Monica Boulevard in West Hollywood, Fairmount Park has gone through a series of transformations over the years, not all of them positive. According to the APA, "In the 100 years since the Olmsted Brothers wrote their 1911 plan for "worthless land" on the edge of a quarry, Riverside's flagship Fairmount Park has gone from premier community park to a center of crime and neglect to a recognized example of excellence in urban park planning and plan implementation."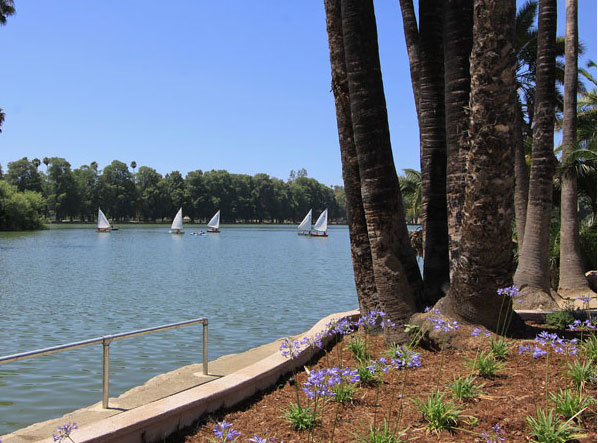 Fairmount Park Lake. Photo by the Riverside Parks, Recreation & Community Services Staff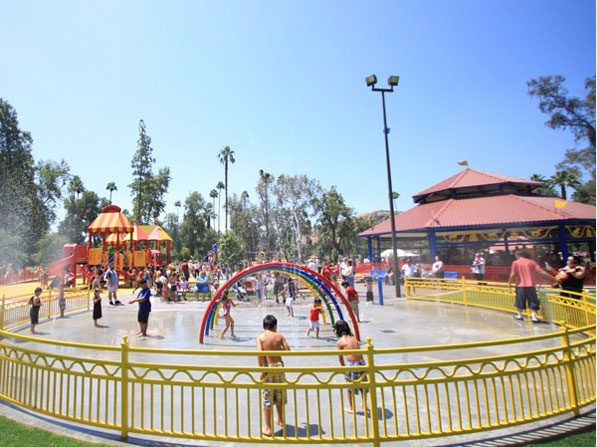 Farimount Park Playground. Photo by the Riverside Parks, Recreation & Community Services Staff
Today, Fairmont Park features a $2.6 million universally accessible playground, two rehabilitated lakes that support fishing, sailing and pedal boats, lawn bowling and a public golf course (one of the earliest in Southern California). The park also includes the multi-use Regional Santa Ana River Trail, which connects to trails leading to the Pacific Ocean and, in the future, to Big Bear in the San Bernardino Mountains.