This weekend, the Tim Burton exhibition at LACMA comes to a close. To help usher out this fantastic show in true Burton style, the museum is screening six of Vincent Price's ghoulish classics back-to-back in honor of his centenary.
The pairing of these highly distinctive artists is perfect on two fronts. First, Price was one of Burton's long time heroes. Second, it's Halloween weekend and what better way to celebrate than to take in one or more classic Price horror films and to experience (or re-experience as the case may be) the Tim Burton show before it leaves town.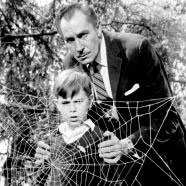 Vincent Price in The FlyPrice-A-Thon 100 Film Series
1:00 pm: The Pit and the Pendulum
2:30 pm: The Masque of Red Death
4:10 pm: House of Wax
6:00 pm: The Tingler
7:30 pm: The Fly
9:15 pm: Witchfinder General (aka Conqueror Worm)
DETAILS
What: Price-a-Thon 100
When: Sunday, October 30
Where: LACMA, located at 5905 Wilshire Blvd. Los Angeles
Cost: All screenings are free, no reservations required.
More Information:
Tel: 323 857-6000
Web: http://www.lacma.org
Tim Burton will be open for 38 straight hours from 10 am on Sunday, October 30 through midnight on Monday, October 31. Tickets will be $10 (That's half off!) between 12 am and 9 am on Halloween morning.
Parking will be free after 7 pm on Sunday, through 7 am on Monday, and again from 7 pm Monday through midnight.