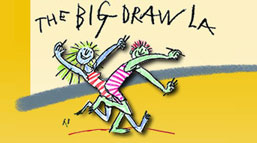 During the month of October, Angelenos of all ages and artistic ability have the opportunity to participate in The Big Draw LA, a city-wide celebration of drawing in all its forms. Inspired by the popular Big Draw event in London, The Big Draw LA seeks to expand the boundaries of drawing, experimenting not only with pencils, paint, charcoal, and digital imagery, but also with sand, clay, choreographed movement—anything that makes a mark!
"Drawing is universal. It connects generations, cultures and communities," says Diane Brigham, Executive Director of Ryman Arts. "While children readily embrace drawing as a means of self-expression, many adults claim they've lost all ability to draw. The Big Draw LA seeks to eliminate these barriers by engaging all Angelenos – those who love to draw and those who think they can't – to embrace the joy of creative expression."
The event is presented by Ryman Arts, in conjunction with Los Angeles area museums and other organizations. Ryman Arts is a Los Angeles based non-profit dedicated to working with talented, motivated youth, creating a bridge to a lifetime that expresses and appreciates the arts.
DETAILS
When: October 1 – 31, 2011
Where: Various venues. See the online calendar.
More Information:
Web: The Big Draw LA and Ryman Arts