Barbara Morrison always demurs when she's described as a jazz singer, asserting that her primary and predominant allegiance is to the blues. But over the course of a career spanning five decades, she has earned the love and respect of an international array of jazz artists, and now that community is rallying to her at a difficult hour.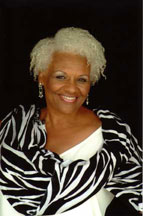 Photo via BarbaraMorrison.comThe Los Angeles vocalist has been struggling with diabetes, and recently suffered a set back that led to the amputation of a leg. On Sunday, a huge cast of jazz artists is gathering at Local 47 Musicians Union in Hollywood to hold a fundraiser for Morrison, who has been unable to work.
Organized by pianist Stuart Elster and bassist Richard Simon, the marathon concert features a panoply of jazz stalwarts, such as pianist Ron Bishop, drummer Frank Capp's Juggernaut Big Band with Ernie Andrews, harpist Corky Hale, pianist Art Hillery, tenor saxophonist Plas Johnson, pianist Junior Mance, vocalist Tierney Sutton and bassist Nedra Wheeler.
It's no surprise that Morrison has inspired such an outpouring. She's a charismatic performer who can raise a sweat with a torch song or sooth a worried mind with a ballad. A widely beloved figure on the Southland music scene, she hails from a family of illustrious jazz musicians, and has sung with many of the jazz's greatest players. But when you try to pin her down, she says squarely that her first love is the blues.
"I consider myself a blues singer first, then a jazz singer," Morrison said in a conversation several years ago. "People think that when you do standards, you're a jazz singer. But when I do standards the blues comes through so strong. I do like jazz and I think that I do jazz well, but I don't think I do jazz as well as I do blues."
Related to both piano legend Errol Garner and tenor saxophonist Lucky Thompson, Morrison might seem to have had a clearly marked path into the music business. But she never met Garner, who passed away in 1977, or the reclusive Thompson, who had been off the scene for years when he died in 2005. She credits her father, a fine singer and piano player, with encouraging her to become a professional vocalist.
Born in Ypsilanti, Mich., Morrison got her first break in the early 1970s when she and a friend happened into a small Los Angeles dive where alto saxophonist and vocalist Eddie "Cleanhead" Vinson was in the midst of a set. She didn't know who he was, and when her friend told Cleanhead that Morrison was trying to break into the business he invited her to sit. Duly impressed, she left the club with a gig.
"He taught me everything I know," Morrison said. "I used to call him 'Dad' and ask him, 'Dad, when am I going to get my own style?' He said, 'You just hang in there and quit listening to all those singers. You ain't Gladys Knight. You ain't Aretha Franklin. Get you some horn players, get you some Coleman Hawkins and some Sonny Stitt, and listen to those standards.'"
Morrison took Vinson's advice to heart and grew into a versatile performer. By avoiding the influence of the popular female singers of the time, she developed a sound steeped in the blues, but informed by jazz and gospel phrasing.
"I think the biggest influence on me was Johnny Taylor, from Dallas, Texas," Morrison said. "He's one of the most wonderful blues and R&B singers in the world."
Coming of age after the advent of the Beatles meant Morrison had little opportunity to break through to a pop audience like Ernestine Anderson, a singer whom she resembles when it comes to sensibility and repertoire. She never signed with a major label, but Morrison recorded prolifically and performed widely with many of jazz's most celebrated artists, including Kenny Burrell, Jimmy Smith, Jon Faddis, James Moody, Jimmy Heath, Gene Harris, Cedar Walton, Terence Blanchard, and Ron Carter.
Her latest album, "Live at the Dakota" (Dakota Live), was recorded at the venerable Minneapolis jazz spot with a superlative cast, including pianist Junior Mance, who recorded several classic albums with Dinah Washington, and Houston Person, who's four decade bandstand communion with Etta Jones stands as jazz's most enduring and rewarding horn/vocal partnership.
DETAILS
When: September 11 at 7:00 pm
Where: Local 47 Musicians Union, located at 817 Vine St., Hollywood.
Cost: $20 per person at the door
More Information:
Tel: 323.296.2272
Recommended Albums:
____________
Andrew Gilbert is my brother and a prolific freelance writer whose primary focus is Jazz. You can find his articles in the Los Angeles Times, San Jose Mercury News, JazzTimes and many other publications. He will periodically contribute other articles to Curating Los Angeles and share his expertise and passion for the southland Jazz scene.