Throughout the year Laguna Beach art galleries and lodging establishments, along with the city itself, team up to host the First Thursdays Art Walk, which takes place, not surprisingly, on the first Thursday of every month. The self-guided tour is free to the public and a great way to spend a summer evening exploring Laguna's thriving art scene.
As you stroll around this pedestrian-friendly town from one gallery to another, you'll find artist demonstrations and receptions, live music and other entertainment and refreshments. You'll also have the opportunity to try one of the city's many excellent restaurants. A few of my favorite places to eat and drink are Watermarc, 230 Forest, Sorrento Grille, and for a good, cold beer on a warm evening, Brussels Bistro.
Some of the highlights of the July 7th First Thursdays Art Walk include:
A public art dedication
Contemporary impressionist artist David Chapple at DeRu's Fine Arts
A group landscape show featuring the works by Nancy Bush, Jian Wang and Jim Lamb at Dawson Cole Fine Art
New sculpture by Ron Dier and new fused glass techniques by Melody Topping at Studio Arts Gallery
Los Angeles-based 3 dimensional painter/sculptor Alan Bodner at [seven-degrees]
"No Assembly Required" New Work by Canadian artist James Verbicky at JoAnne Artman Gallery
Original etchings by internationally recognized Italian artists at La Bottega Dell'Acquaforte
In addition to the galleries, I also recommend you visit the Laguna Art Museum. Currently on display is "Noguchi: California Legacy," which focuses on the impact this internationally celebrated Japanese-American artist had in California, and "Landscape and Figuration", highlighting exemplar twentieth century works from the Permanent Collection ranging from impressionism to modernism.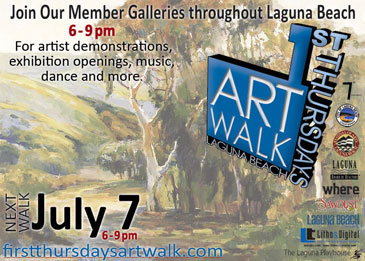 Several suggestions to make your First Thursdays Art Walk a success. While Laguna is easy to navigate on foot, you can also get to all the Art Walk destinations by hopping on the free trolley. You'll find a link to a shuttle map below. I also recommend that you pick up an Art Walk brochure at the first gallery you visit, since it includes a useful map and lists all the evening's special events.
Finally, while the Art Walk ends at 9 p.m., you can extend your Laguna art experience a little later into the evening and save money at the same time. If you visit the Sawdust Art Festival and/or Festival of Arts, you will receive free admission when you present the First Thursdays brochure at each festival's box office.
DETAILS
When: July 7 from 6 to 9 p.m. (Also August 4 and September 1)
Where: Laguna Beach, CA
Cost: Free
More Information
Tel: 949-683-6871 (information line only)
Web: www.firstthursdaysartwalk.com
Gallery List and Shuttle Map