If you ever spent time exploring the area around Old Pasadena, you undoubtedly noticed the beautiful Castle Green, built in 1898 as an annex to the Hotel Green resort. Listed on the National Register of Historic Places and the National Archives of Significant Interiors, this seven story historic landmark was built by Col. George G. Green of the Patent Medicine Business in the Moorish, Colonial, and Spanish styles and is graced by ornate furnishings and an elegant ballroom.
Today, Castle Green is a unique condominium complex with 52 privately owned, mostly one bedroom, units that were created out of space formerly used as hotel rooms and suites. The building is distinguished by rare architectural detail, such as hand-carved woodwork and marble staircases, and beautiful reminders of its Victorian past.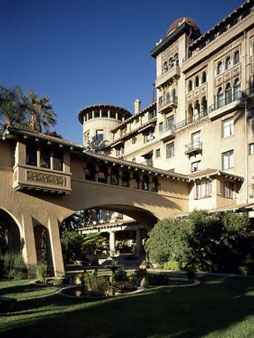 Photo from Castle Green web site.Although normally closed to the public, this Sunday you can participate in a semi-annual tour of the building organized by the all volunteer non-profit, Friends of the Castle Green. Explore at your own pace over 20 individual apartments, as well as the original public rooms. See the Grand Salon, the Moorish and Turkish Rooms, the Palm Room, Sunroom and Veranda, the open cage elevator, fireplaces, the bridge, artist studios, and the Penthouse.
I've wanted to see the inside of this building for a long time and am very excited to finally have an opportunity to experience it first hand. I will write up what I find and publish some photos after the event. I hope you can make it too.
DETAILS
When: Sunday, June 26 from 1:00 to 5:00 p.m. (rain or shine)
Where: 99 South Raymond Aveune Pasadena
Cost: $20.00 adults, children under 12 are free.
No reservations necessary for groups of less than 20. Public may pay at the gate. Pre-purchase tickets only possible for groups of 15 or more.
More Information:
Tel: 626-577-6765 or 626-385-7774 (Information Line)
Web: www.castlegreen.com