On Wednesday night I attended a screening of Captain Blood, the classic Errol Flynn and Olivia de Havilland film released in 1935 by Warner Bros. and directed by Michael Curtiz. This was the third of six motion pictures that make up the Los Angeles Conservancy's annual program called Last Remaining Seats. Now in its 25th year, this unique event celebrates classic films and live entertainment in LA's historic theaters.
This particular event took place at the Million Dollar Theater (1918), one of twelve movie palaces built between 1910 and 1931 along South Broadway in downtown Los Angeles. According to the LA Conservancy's Last Remaining Seats program, it "was Sid Grauman's first Los Angeles venue and one of the largest movie palaces in the U.S. when it opened. Renowned architect Albert C. Martin designed the Churrigueresque-style building, Joseph Mora sculpted the exterior terra-cotta figures, and William Lee Woollett designed the Spanish Baroque-style auditorium."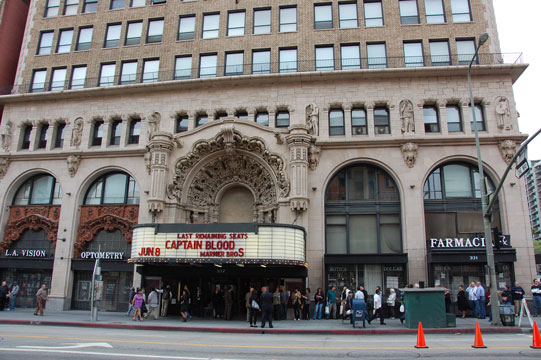 Million Dollar Theater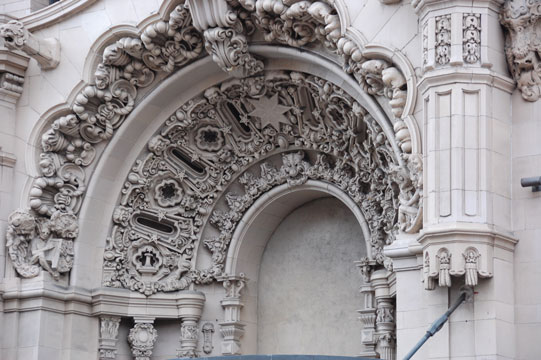 Million Dollar Theater – Exterior Detail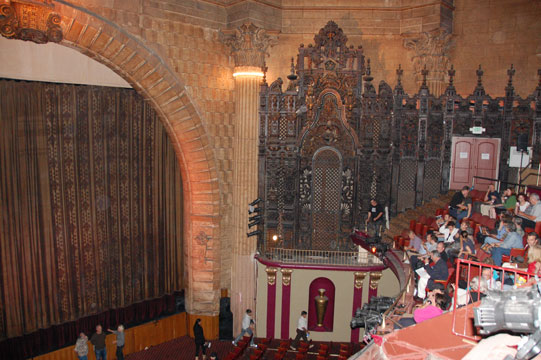 Million Dollar Theater – Interior
The evening began with a short Warner Bros. cartoon, Captain Hareblower, starring Bugs Bunny and Yosemite Sam. It was the perfect complement to Captain Blood and a fun way to get things started.
We were then treated to a talk by Leith Adams, Warner Bros. corporate archivist (that sounds like such a cool job). After sharing some interesting Warner Bros. history, he unveiled the original theater drape from The Jazz Singer. This curtain has rarely been seen in public and what it lacked in ornamentation it more than made up for in historic value.
To top off the evening's pre-film program, Alan Rode, film historian, author and director of the Film Noir Foundation introduced the evenings surprise guest, actress Patrice Wymore. She is Errol Flynn's widow and flew to Los Angeles from Jamaica just for this event. Rode and Wymore engaged in a short question and answer session that shed some light on Errol Flynn the man, for those of us who didn't know very much about him, and afforded us a small glimpse into his private, off-screen life. I also learned about her acting career, which I new nothing about. Wymore was funny, gracious, poised and truly seemed to appreciate the audience's warm reception.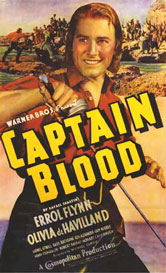 As for the movie itself, Captain Blood was great fun and I was quickly swept up in the story. For a brief synopsis, check out IMDB.
I'd never seen an Errol Flynn movie from start to finish, so I wasn't entirely sure what to expect. In short, the film is an escapist adventure and romance that features plenty of sword fights, well-executed ship-to-ship battles, heroes and villains, and great costumes. It also epitomizes the flamboyant swashbuckler genre and is the best pirate film I've seen to date. The script includes some clever dialogue, is well directed and the two stars have great chemistry on screen.
Next up in the Last Remaining Seats series is Zoot Suit (1981), which screens on June 22, also at the Million Dollar Theater. Tickets are still available and Edward James Olmos will be on hand, so get them now before the show sells out. While I can't make that particular screening, I'm taking my family to see King Kong to celebrate the last day of school, and will follow that up with Sunset Boulevard and Safety Last! I can't wait….