This week jazz lovers in Los Angeles have the opportunity to hear Kurt Elling, one of the foremost male vocalists working today, perform with longtime pianist Laurence Hobgood at Catalina Bar & Grill. Their three-night stand celebrates the release of "The Gate
", a new album produced by Don Was on which Elling explores contemporary rock and pop tunes.
You can learn more about Elling, his collaboration with Hobgood and their latest album in an article by Andrew Gilbert published in the Calendar Section of today's Los Angeles Times.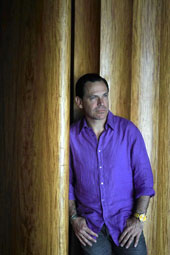 Kurt Elling at Tower Theatre in Fresno, CA. Photo by Francine Orr, Los Angeles Times.
DETAILS
When:
Wednesday, April 20 at 8 p.m.
Thursday and Friday, April 21-22 at 8 and 10 p.m.
Note: The Friday performance is sold out.
Where: Catalina Bar & Grill, located at 6725 West Sunset Blvd. Hollywood
Cost: $25 to $30
Tickets: Available online
More Information:
Tel. 323-466-2210
Web: www.catalinajazzclub.com
Recommended Recordings: