As a self-described news junkie, I spend many hours each week reading a wide range of articles from numerous print and online publications – both domestic and international. I also see many images that accompany these stories and am reminded every day how powerfully photographs can tell a story. As the Annenberg Space for Photography so aptly states, the best images produced by photojournalists "…create a visual representation of the challenges of modern civilization, with themes such as human conflict and interaction, our relationship with the environment, how we appraise our economic status and the range of human emotions from intense joy to sorrow."
Given photography's storytelling potential and my love of the medium, I was very excited to learn that the Los Angeles Times' Photo Department is presenting a special, one-night-only pop-up gallery during the Downtown Art Walk. The block party and exhibit will celebrate the power and explore the craft of visual storytelling through a curated collection of recent work from The Times' award-winning staff of photojournalists.
In addition to viewing framed prints, digital slideshows and projections of the Photo Department's work, guests can expect to sample craft beers provided by Cole's and enjoy sounds by Darren Revell of "Big Sonic Heaven." Some of The Times' photographers will also be on hand to take portraits of guests who visit the exhibit and will then use those photos to create a digital slideshow on site.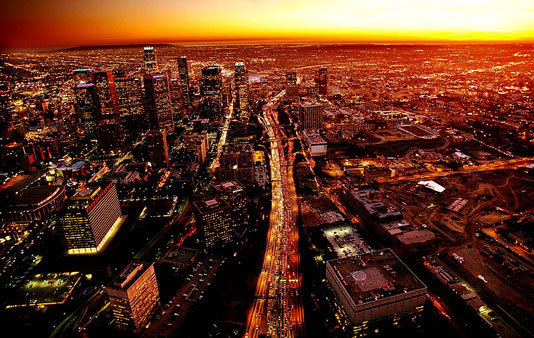 Aerial view of Los Angeles (c) 2006 Wally Skalij/Los Angeles Times
DETAILS
When: Thursday April 14, 6 p.m. to 10 p.m.
Where: SW corner of 2nd & Spring, across from The Times
Cost: Free
More Information:
This event is limited to individuals 21 years or older.
Additional details available online