I've long admired mid-century modern design. While I'm more knowledgeable about, and familiar with, the architecture and furniture from that period than with other forms of artistic expression, I know that a number of innovative potteries came on the scene at that time and left a lasting legacy.
One of the few American companies from that period still in existence is Heath Ceramics, which was founded in 1948 by potter and designer Edith Heath (1911-2005) and based in Sausalito, CA. In 2003, Catherine Bailey, an industrial designer, and her husband Robin Petravic, a mechanical engineer, purchased the company from Heath when she was no longer able to continue working. Together, they and their team of 60 skilled craftsmen seek to inject new energy into the brand by embracing new ideas and working with talented artists and designers, while at the same time preserving Heath's design tradition.
So what's the relationship between this fixture of the northern California design community and Los Angeles you might ask? Well, in December of 2008, they opened the Heath Los Angeles Studio and Showroom, a very special space that is part gallery, part studio and part retail storefront.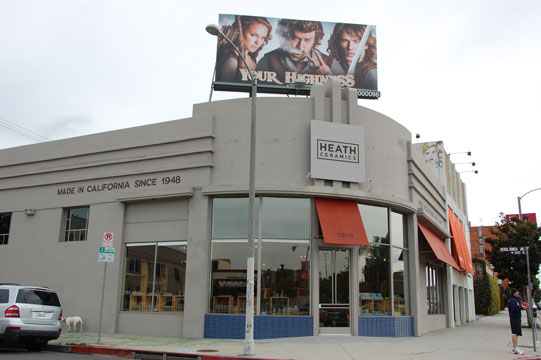 Located in the Fairfax district directly across the street from Pan Pacific Park, Heath's Los Angeles space was designed by Commune Design and is overseen by director and LA based potter Adam Silverman, who teamed up with Heath to make the LA operation a reality.  According to Silverman's web site, "the studio will focus on creating original work for the two Heath Ceramics stores, as well as small, custom jobs for the local Los Angeles design community. The gallery space will host shows of work sympathetic to the Heath Ceramics aesthetic, mission or vast array of interests."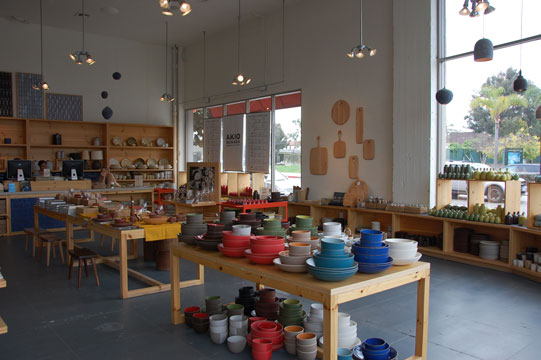 My wife and I recently visited the Heath Los Angeles Studio and Showroom and immediately fell in love with their pottery. The designs are simple and characterized by clean lines, beautiful shapes and warm colors. They also have a wonderful texture, which is a characteristic that I value a lot – they just feel good to touch.
We purchased a multi-stem vase and a complementary single stem vase. Both look fantastic on our dining room credenza. While you pay a lot for Heath products, I believe it's money well spent. You definitely see and feel the quality of these hand-made, functional pieces of art.
If you're not familiar with Heath Ceramics, spend some time on their web site, where you can learn about their tableware and tiles, as well as the many homeware products that they carry. Better yet, head on over to the LA location to see their products in person. You won't be disappointed.
DETAILS
Where: 7525 Beverly Blvd
. Los Angeles
Hours:
Monday – Wednesday, Friday & Saturday 10 – 6
Thursday 10 – 7
Sunday 12 – 6
More Information:
Tel: 323-965-0800
Web: www.heathceramics.com