I had an opportunity to preview a very special photography book at Photo LA several months back called "L.A. Day/L.A. Night," by photographer Michael Light. As familiar as I am with the landscape and built environment of the greater LA region, this unique collection of black and white aerial photos exposed the city in a new light, both dreamlike and ethereal, that I found truly captivating. Indeed, I was so drawn to these images that I put the book on my short list of "birthday gifts for myself".
In addition to Light's photographs, this book is distinguished by an excellent essay by David L. Ulin, book critic and former book editor of the Los Angeles Times. You can read this essay and view a slideshow of Light's aerial photographs in Places, an online journal of architecture, landscape, and urbanism published by the Design History Foundation.
If you're interested, you can purchase a copy of this wonderful book by clicking on the following link.
Michael Light: LA Day, LA Night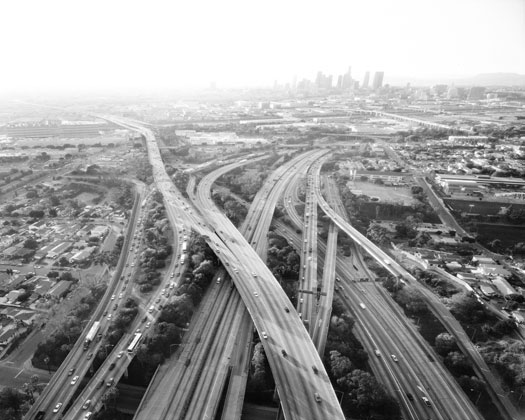 Highways 5, 10, 60 and 101 Looking West, L. A. River and Downtown Beyond. Photo by Michael Light.