Tenor saxophonist Ernie Watts is probably best known for his passionately lyrical work with bassist Charlie Haden's Quartet West, a group that's honed a nostalgia-laced, cinematic sensibility inspired by 1940s film noir. He first gained attention as a member of drummer Buddy Rich's band in the mid-1960s, a gig that brought him to L.A. Watts didn't plan on becoming a first-call session cat, but when veteran players such as Buddy Collette, Bill Green and Plas Johnson started calling him to sub for them on record dates and TV shows, he welcomed the work.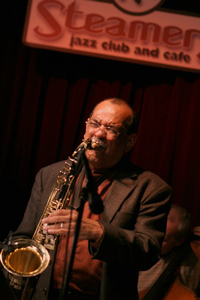 Photo via Steamer's Jazz Club and Cafe web site
While Watts toured the world with Oliver Nelson and played widely with Gerald Wilson's celebrated big band, the Beatles-driven rock tsunami washed away many jazz clubs and left most jazz players scrambled to make a living. Watts ended up recording on countless film scores, television shows and pop sessions, including dates with Steely Dan, Sergio Mendes, Aretha Franklin and Frank Zappa.
Though he also held down a reed chair in Doc Severinsen's Tonight Show Orchestra for 20 years, he managed to keep a steady jazz quartet together. "I always had a group," Watts said. "We rehearsed every week whether we had a gig or not. For two or three years I played every Wednesday night at a little club called Donte's, so that sort of kept my music going, even though I was really busy doing the studio thing." Still keeping a band together, Watts performs this Friday evening at Steamer's Jazz Club and Café.
DETAILS
When: Friday, 8:30 p.m.
Where: Steamer's Jazz Club and Café 138 W. Commonwealth, 
Fullerton
Cost: $8.00 cover (Note: Reservations are highly recommended)
More Information: Call 714.871.8800 or visit steamerscafe.com
Recommended Albums:
____________
Jazz Pick of the Week is written by Andrew Gilbert. Andy is my brother and a prolific freelance writer whose primary focus is Jazz. You can find his articles in the Los Angeles Times, San Jose Mercury News, JazzTimes and many other publications. He will periodically contribute other articles to Curating Los Angeles and share his expertise and passion for the southland Jazz scene.