Growing up during the last decades of the Cold War, I vividly remember the political conflict, military tension, nuclear arms race, proxy wars and competition, both economic and athletic, that played out around the globe between the Communist world, primarily the Eastern Bloc nations, and the West. But what was life really like for people living behind the Iron Curtain? The reality is that for most people in the West, myself included, that era was, and still remains, shrouded in mystery. Enter The Wende Museum.

The Wende Museum is a unique institution focused on preserving Cold War era artifacts and personal histories from Eastern Europe and the Soviet Union before they are lost due to neglect, destruction or the passage of time. The brainchild of native Angeleno Justinian Jampol, The Wende Museum was incorporated in 2002 and has gradually expanded its collection to more than 60,000 items that fall into four main categories: the German Democratic Republic; Personal Histories and Everyday Life; Public and Private Interaction; and Wende Moments.
Why the name Wende? The museum's web site explains that it's a German word meaning "turning point" that "refers to the collapse of communist East Germany in 1989 and the creation of a reunified German state a year later. The term more broadly represents the end of Soviet communism and the beginning of a new epoch in Eastern Europe and Soviet Bloc countries, an era marked by political changes with profound social and cultural consequences."
Since 2004, the museum has received operational and acquisition funding from the Arcadia Fund, enabling it to more aggressively pursue its acquisition and preservation objectives. At the same time, it has grown its full time staff and expanded its education and outreach programs, thereby raising the museum's profile within academic circles and among the general public.
Like many up and coming arts and cultural institutions, The Wende Museum does not have the budget for a fancy building. There are no flashy foyers or grand plazas to greet visitors. Instead, it is tucked away in a non-descript business park located in Culver City.
Upon arriving at the museum, I immediately noticed a large slab of brightly painted concrete right outside the front door. It turns out this is a piece of the Berlin wall painted by Thierry Noir, who made a name for himself during the 1980s by painting large sections of the Berlin wall with fellow Frenchman Christophe Bouchet.
After ascending the stairs to the museum's main entrance, I found myself in a small gallery displaying a variety of interesting items. I was particularly drawn to a wall of East German commemorative porcelain plates, which represent just a fraction of the museum's 1,000-piece collection. Commissioned by a variety of official organizations, these plates incorporate iconography that was commonly used throughout Eastern Europe during the Cold War.
Immediately upon my arrival, I was greeted by Cristina Cuevas-Wolf, Manager of Collection Development, who helped coordinate my visit and arrange my meeting with Ljiljana Grubisic, Director of Collections and Public Programs. Ms. Grubisic was very generous with her time and saw to it that my visit was both productive and informative. She explained that approximately 70% of the museum's collection comes from East Germany, 20% from the former USSR and the rest from other Eastern European countries. She also told me about a number of past exhibitions and programs produced by the Museum, such as The Wall Project, a month long, Los Angeles-based public art initiative in 2009 commemorating the 20th anniversary of the fall of the Berlin Wall.
After spending much of 2010 building its curatorial capacity and capabilities, the museum is now planning to roll out a slate of new programs and exhibitions over the next two years. During 2011, it will mount a show titled "Deconstructing Perestroika" to coincide with the 20th anniversary of the collapse of the Soviet Union. Featuring 30 original, hand-painted poster designs created by 13 artists responding to Mikhail Gorbachev's transformative policies of Glasnost and Perestroika, these rarely seen works have been culled from The Wende Museum's Ferris collection. The exhibition aims "to examine key political and cultural shifts that defined the era and that ultimately undermined the very foundation of Soviet ideology," Ms. Grubisic says.
Next year, the museum will produce a yearlong initiative called "Prying Eyes & Ears: From Secret Agents to the Routine of Surveillance," which will explore both the historical significance of surveillance and its impact on contemporary popular culture. A centerpiece of this program is a planned art installation that will re-contextualize a selection of The Wende Museum's listening and surveillance device collection through a creative intervention by American artist Lisi Raskin. I very much look forward to this program, partly because it taps into my fascination with James Bond like gadgets and because of its relevance to the post 9-11 privacy debate going on today in the US and many other countries around the world.
Given The Wende Museum's expansive collection, I was only able to scratch the surface of its holdings. I did, however, get the opportunity to delve into the Ferris Poster Collection, a fascinating collection of Russian graphic art, the majority of which was produced during and immediately after the Perestroika-era, between 1987 and 1992. Compiled by Jeri Ferris and her late husband Tom, a former Beverly Hills High School Russian teacher, this artwork cleverly and powerfully addresses a wide range of social issues and political events, including the failed coup of August 1991, Stalin's terrors, environmental concerns and AIDS. Other items from the former USSR collected by Jeri and Tom Ferris comprise The Ferris Collection of Sovietica, which resides at USC.
Below you'll find selected posters from The Wende Museum's Ferris Collection. All images provided courtesy of the museum.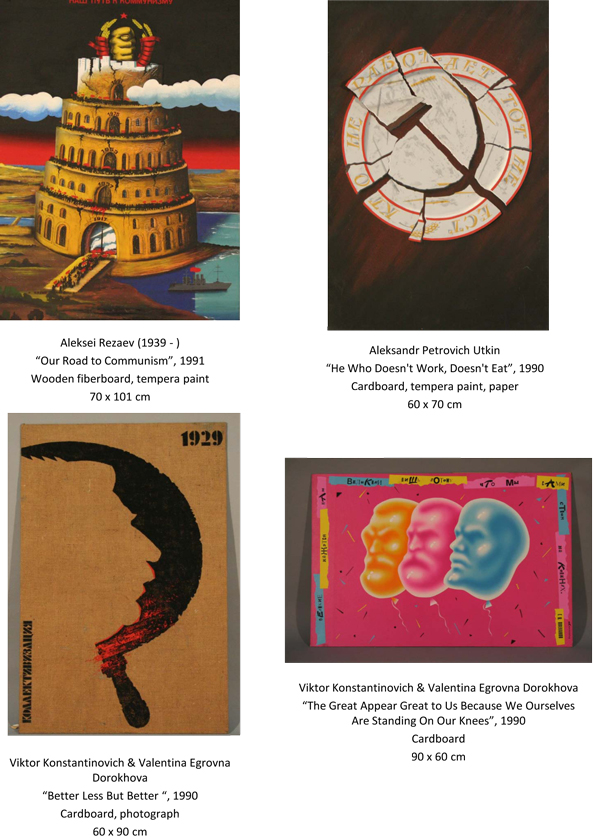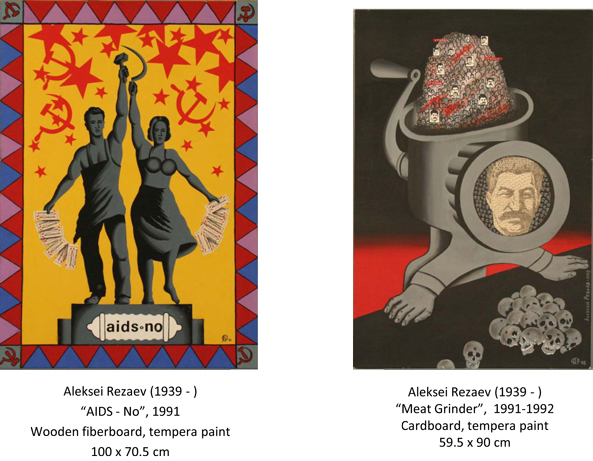 Aside from learning about the Ferris Collection, a highlight of my visit was touring the museum's archive vault. As I walked down the aisles of boxes and artifacts, I could feel history all around me. Bags full of military uniforms, busts of political figures, paintings, listening devices hidden in brief cases – the list of items goes on and on.
I was particularly intrigued by the Museum's collection of 16mm films, which were stacked on shelves just beckoning me to view them. The majority of these films fall into two categories: domestic life and official educational films, and will undoubtedly help historians understand and visualize the Cold War era. While I didn't have the opportunity to view any of these movies on this visit, my interest is definitely piqued – I just might have to arrange a time to see some of them.
From the vault, I was escorted to the first floor gallery, where John Ahouse, Special Collections Curator, gave me a tour of an exhibition titled "Facing the Wall: Living With the Berlin Wall." Using audio, video, still images and various period items, it both evokes a particular place and time and sheds light upon how the Cold War impacted those living on either side of the wall. The installation's impact far exceeds its small size largely because of the way it uses personal stories to such great effect. While I won't go into these stories here, suffice it to say they are well worth your time. You can access these videos online.
My visit to The Wende Museum concluded back upstairs, where I viewed several more exhibits. One was comprised of a girl's gym locker filled with various sports related items from the former Soviet Union and the German Democratic Republic (GDR).
As I discussed the display with museum staff, I was reminded of the personal toll that state sponsored drug abuse exacted on young athletes from Eastern Europe and the USSR, as well as the political motivations for creating world-class athletic programs. In the West, we only heard about those who made it through the government run training programs. But what of the others I wondered? The Wende Museum encourages this sort of questioning and for those inclined to dig deeper, provides a wealth of material to help provide answers.
After spending several hours at the museum, what I found was an institution that seems to steer clear of interpretation. Instead, it leaves that up to the researchers and other visitors who view, study, question and contemplate the museum's artifacts. This is a refreshing approach to curation – one that seems particularly well suited for a collection that is so politically charged.
It's also apparent that The Wende Museum is truly an entrepreneurial endeavor, characterized by a singular vision, passion and creativity on the part of the staff, and an embrace of ideas that come from the museum's friends and supporters for what a museum / archive should and could be. Moreover, it doesn't have the institutional feel so common at older, more established museums, which tend to keep the visitor at arms length. I look forward to watching this museum grow in the coming years.
So should you make time to visit The Wende Museum? If you're fascinated by history, want to learn what life was like behind the Iron Curtain and better understand the Cold War's enduring legacy, the answer is most definitely yes. You won't be disappointed.
Note: Special thanks are due Cristina Cuevas-Wolf, Manager of Collection Development; Ljiljana Grubisic, Director of Collections and Public Programs; John Ahouse, Special Collections Curator; and intern Alina Serebryany for so warmly welcoming me to The Wende Museum and sharing their expertise regarding the museum's collection and subject matter. My visit would not have been as satisfying or informative without their assistance.
PLANNING YOUR VISIT
Hours of Operation:
The museum is open to the public Monday through Thursday by appointment from 10 a.m. to 5 p.m. (except on holidays). A tour of the Museum's vault is offered every Friday at 3 p.m.
Admission: free
Where: 5741 Buckingham Parkway, Suite E
 Culver City, CA 90230
Parking: Parking is available in designated spots marked with the name "Wende."
Contact Information:
Tel: 310.216.1600
info@wendemuseum.org
www.wendemuseum.org