A Noise Within reprises its hilarious and critically acclaimed production of the British farce Noises Off by Michael Frayn. Company Co-Founders/Co-Artistic Directors Geoff Elliott and Julia Rodriguez-Elliott co-direct the production, in which Elliott also performs.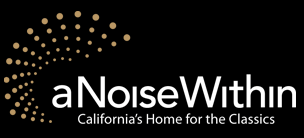 My family and I really enjoyed this play when A Noise Within presented it last season for the first time in the company's history. While my two boys, then ages 7 and 9, didn't get every joke and some of the storyline's nuances, they were both laughing throughout the play and loved the physical nature of the comedy. If you're looking for a theater experience that your entire family can enjoy, A Noise Within really delivers with this fantastic production. I highly recommend it.
Says Elliott, "Presenting this show last season was a true highlight. I don't know if I've ever had more fun being in a production and co-directing it." Rodriguez-Elliott adds, "It's fun for the actors and the audience! Everything about this play is simpatico with A Noise Within's focus on ensemble work; people saw it two and three times."
The cast features Shaun Anthony (Tim Allgood), Apollo Dukakis (Selsdon Mowbray), Geoff Elliott (Lloyd Dallas), Jill Hill (Brenda Blair), Mikael Salazar (Garry Lejeune), Lenne Klingaman (Poppy Norton-Taylor), Abby Craden (Brooke Ashton), Stephen Rockwell (Frederick Fellowes) and Deborah Strang (Dotty Otley).
If you do decide to take children to this production, I recommend reviewing the storyline with them in advance. We did that with our kids and it helped them understand what was happening on stage. You'll find a good synopsis of the play, along with director's notes, general theater lore, links to other resources and detailed information about the playwright, characters, setting, period, costumes, scenic design and more in the Noises Off Study Guide.
DETAILS
When: Friday, January 21 to Sunday, January 30, 2011
Where: A Noise Within 234 South Brand Boulevard Glendale, CA 91204
Tickets: Purchase online or by calling the theater box office at 818.240.0910 x1
More Information: A Noise Within's 2010/2011 Season Brochure