If you've never had the opportunity to experience a great silent movie with live organ accompaniment, then this event is for you.
The Los Angeles Conservancy's Broadway Initiative Cultural Partnership Program is proud to partner with the Los Angeles Theatre Organ Society (LATOS) as they present the 1927 silent comedy, Her Wild Oat. The film opens the society's annual Wurlitzer Weekend and will screen at the magnificent 1926 Orpheum Theatre.
Starring Colleen Moore, this film was long considered lost but has been restored by the Academy Film Archive of The Academy of Motion Picture Arts & Sciences. This special screening features live accompaniment by Bob Salisbury on the Orpheum's original Mighty Wurlitzer organ!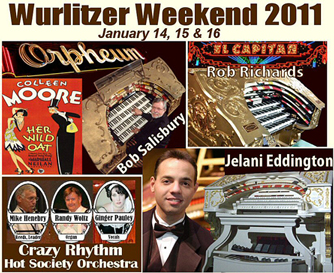 If you'd like to hear even more organ music, I highly recommend you check out the other performances that make up Wurlitzer Weekend 2011, a three-day event organized by LATOS that features some of the finest organists in the country. Come and experience these marvelous instruments in a variety of venues located around greater LA.
Wurlitzer Weekend 2011 runs from Friday, January 14 to Sunday, January 16. For details and tickets, visit LATOS.org.
Her Wild Oat Details
When: Friday the 14th at 8 p.m.

Where: Orpheum Theatre 842 South Broadway, Downtown L.A.
Cost: $18-20
Details and Tickets: LATOS.org