I'm always on the lookout for opportunities to spend time with other people who love LA as much as I do. One of the best ways to find these kindred spirits is to take a tour with them, and that's exactly what I did several weeks ago. On Saturday afternoon, December 11th, I participated in a bus tour called East Side Babylon, run by Esotouric, a local tour company. The excursion introduced me to a facet of local history that I was largely unfamiliar with; namely, local crime tales from communities east of the Los Angeles river, including East LA and the cities of Montebello and Commerce.
The tour was led by Kim Cooper and Richard Schave, the husband and wife co-founders of Esotouric, who have created a unique and unconventional tour company that's a true reflection of their personal passions. Kim and Richard were joined by Joan Renner, who according to the Esotouric web site, is an expert on graft, corruption and vintage cosmetics. After spending time with her on the tour and checking out her web site, Vintage Powder Room, it's an apt description.
I met Kim, Richard, Joan and the other tour participants in front of Philippe The Original restaurant, located downtown, a couple blocks from Union Station. I remember eating at this LA institution with my grandparents when I was a child, but it's been years since I've been back and unfortunately, I didn't have time to enjoy one of their famous French dip sandwiches either before or after the tour. I definitely need to make a point of getting back there sometime soon.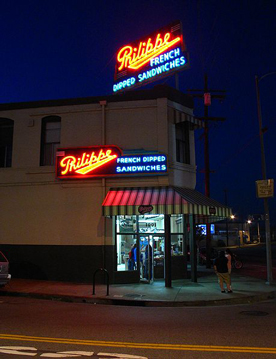 Photo by Ben Frantz Dale
Once on the bus, I knew I was in for a unique experience when Kim stated that East Side Babylon is "the most deranged tour on our entire calendar." Since Richard described the tour as her brainchild, I figured she knew what she was talking about.
Immediately after leaving Philippes, we headed straight for the City of Commerce. Unless you live there, your association with this community is probably the Commerce Casino and neighboring Citadel Outlets, both situated along side the I-5 freeway.
The Citadel Outlets bears special mention due to its interesting history and distinctive façade. Prior to the mall's construction, the site was home to Adolph Schleicher's Samson Tire and Rubber Company factory (later purchased by US Tire and Rubber, which in turn became Uniroyal Tires). According to the Citadel's web site, Schleicher wanted his factory to incorporate a Samson and Delilah motif, so he instructed his architects [Morgan, Walls and Clements] to model the façade "…after a 7th Century B.C. ancient Assyrian palace including a 1,350-foot-long (later expanded to 1,750) crenulated concrete wall decorated with heraldic griffins and bas-reliefs of Babylonian princes carved into the stone between impressive pillars and towers."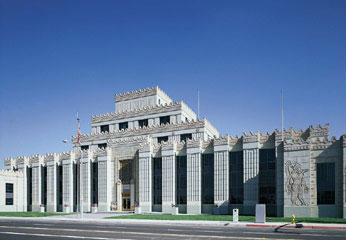 Photo via Citadel Outlets Web Site
The property's redevelopment is a great example of successful historic preservation in that it protected a unique architectural asset while allowing the creation of a financially viable business that contributes to the city's tax base and provides jobs to the community. To learn more about this site, check out the historical information found on the mall's web site.
As we drove through Commerce, Montebello, Boyle Heights and finally East LA, we visited the sites of gruesome murders, tragic accidents and strange burials. Stories of a husband killing his wife, a mother killing her infant, and maimed children were recounted, among many others – grim tales brought to life (no pun intended) in all their lurid details by our guides, who demonstrated their passion for and knowledge of the subject time and again through their detailed explanations.
Kim, Richard and Joan heightened the tour's impact by their team approach to storytelling, which I found highly effective. Driving from site to site, they continually handed off the mic to each other so that each could add details to the many sad, tragic and often horrific stories that they shared. They further enhanced the impact of their stories by displaying photographs of many of the victims and perpetrators on overhead monitors located throughout the bus, putting a human face on otherwise inhuman acts.
Mid-tour, we stopped for a welcome snack at Broguiere's Farm Fresh Dairy, the oldest dairy in southern California. I washed down some tasty cookies with their famous chocolate milk, which was creamy, smooth and absent any powdery residue you find in so many drinks with the same name – truly delicious. While I didn't taste their Eggnog, I've heard it too is outstanding. I'll have to give it a try sometime.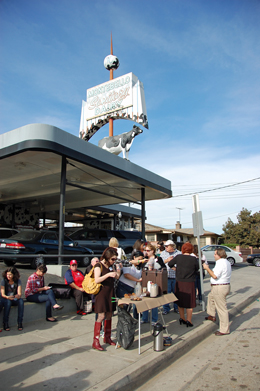 Tour members enjoying chocolate milk and cookies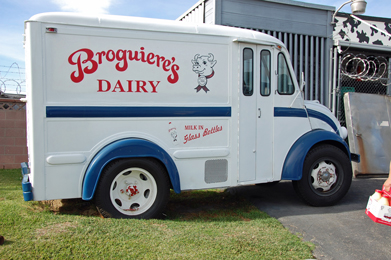 Before heading back to Philippes, we visited Evergreen Cemetery, located in Boyle Heights, the oldest cemetery in Los Angeles and the final resting place of over 300,000 Angelenos. Kim led us to a section of the graveyard occupied by deceased members of the Pacific Coast Showmen's Association and Women's Auxiliary, founded in 1922 for circus and carnival members and their spouses. Not only had I never been to Evergreen before, but I was not aware that such an association existed nor that its members are buried in special sections of cemeteries located throughout the country.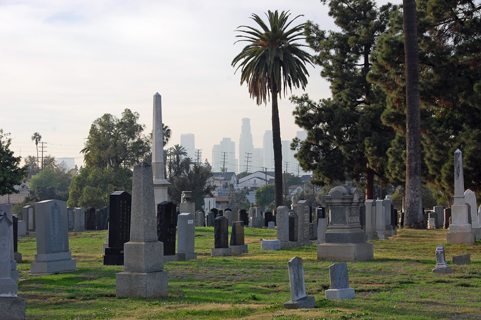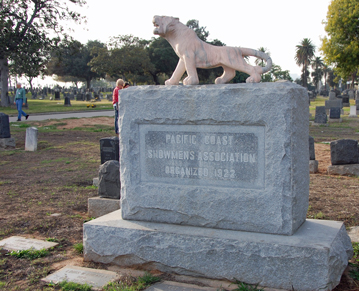 Since our time was limited, we only scratched the surface of this special place. I know I'll return to further explore the Evergreen Cemetery grounds and when I do, I'll share what I find with you.
As the tour wound down, it was abundantly clear that Kim, Richard and Joan love sharing what they know about local crime history in particular and Los Angeles history in general. While I'm not as captivated by graphic crime stories as they are, I appreciated their passion for the subject and the time they spent researching the many stories they shared that afternoon. They really know their stuff and it showed.
When I stepped off the bus, I knew I would return for other Esotouric adventures. Next time though, I think I'll try one of their literary, music, or architecture tours.