Last month I attended a SurveyLA presentation at The William Andrews Clark Library and wrote about the event. In that October 12th post, I promised to write a follow-up piece about the library itself because it made such an impression on me. As you'll learn below, the Clark is not just any library. Rather, it's a cultural resource that deserves a more prominent place in the city's consciousness because it houses a world renowned rare book collection, hosts a variety of lectures and musical programs that are open to the public and because its founder generously contributed to the city's early cultural development. I hope you'll want to make time for a visit after reading this post.
The William Andrews Clark Memorial Library is a literary treasure located in the West Adams neighborhood of Los Angeles. Hidden behind tall brick walls and occupying a full city block, the five acre property is a living testament to the foresight and generosity of its founder, William Andrews Clark Jr., who named the library after his father, a copper baron, banker and US Senator from Montana.
Within specialized academic circles and the rare book community, the Clark is a well-known and very highly regarded institution. Few Angelenos, however, know that it exists. Nor do they know what a tremendous cultural legacy Mr. Clark left the City of Los Angeles.
After moving to Los Angeles in the early 20th century, Mr. Clark purchased a 15-room house and its contents for $90,000 in 1910. Located at the corner of Cimarron Street and Adams Boulevard, the home was originally constructed in 1906 for David McCan, founder of McCan Mechanical Works, which is still remembered for manufacturing parts used in the Mt. Wilson Observatory.
Some 14 years after arriving in Los Angeles, Mr. Clark set about constructing a library on his property to house his growing rare book and manuscript collection. True to his philanthropic ideals and dedication to scholarship, he donated his collection and library grounds to what was then called the Southern Branch of the University of California, which later became UCLA. He also sought to ensure the library's future with a $1.5 million endowment, which still funds new acquisitions and library maintenance.
Today, the library is managed by UCLA's Center for 17th- and 18th-Century Studies and is home to approximately 110,000 rare books, manuscripts and other documents comprising four core collections, including English literature and history (1641 – 1800), Oscar Wilde, fine printing and the history of Montana and the West. According to Rebecca Fenning, the Clark's Manuscripts and Archives Librarian, the last of these is no longer developed because other local institutions, such as The Autry National Center in Los Angeles, are focused on the West and have more extensive holdings. Instead, the Clark expends resources to enhance its other collections.
Noted architect Robert D. Farquhar, FAIA (1872 – 1967) designed the library, while distinguished landscape architect Ralph Cornell (1890 – 1972) created the formal garden that surrounds it. In addition to the Clark, Farquhar was responsible for such well known local projects as Beverly Hills High School (1926 – 1927), the Adalbert and Eva Scott Fenyes House (built in 1906 and currently the home of the Pasadena Museum of History) and the Canfield-Moreno Estate (1923) located in Silver Lake, which is named after its original owners, silent film star Antonio Moreno and his socialite wife and oil heiress, Daisy Canfield Danziger. Farquhar also designed the Clark Mausoleum (1922), whose most notable resident is William Andrews Clark Jr. himself. The mausoleum is located on its own island in what's now called the Hollywood Forever Cemetery.
Constructed between 1924 and 1926, the Italian Renaissance style library incorporated a number of design elements that reflected Mr. Clark's particular taste, style and background. For example, the bookcases in the reading rooms are constructed out of copper, since the Clark family fortune was made in copper mining.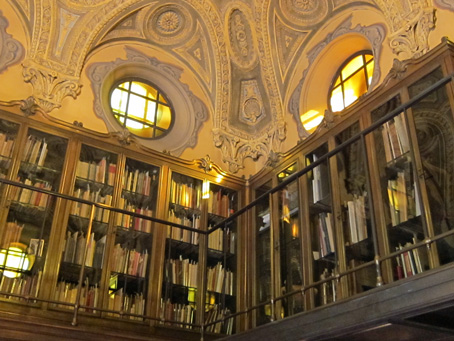 Mr. Clark acquired the alabaster chandeliers, also found in the reading rooms, from his father's Beaux-Arts style New York mansion, which was known as "Clark's Folly" due to its immense size and lavish ornamentation.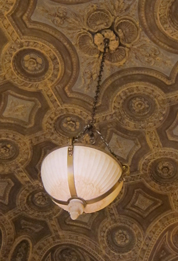 Mr. Clark's interests extended beyond rare books and manuscripts. He was passionate about music and contributed to his adopted city's cultural life by founding the Los Angeles Philharmonic in 1919, a fact that is often overlooked. He also saw to it that his library had space to accommodate live chamber music performances. To this day, the library hosts a variety of concerts in its drawing room, which is graced by murals depicting scenes from John Dryden's All For Love, painted by Allyn Cox, the son of painter Kenyon Cox. Allyn Cox also created paintings that hang in the library's foyer, portraying muses and the arts and studies that reflect Clark's interests.
After Mr. Clark's death in 1934, UCLA assumed full control of the library and its grounds. The Clark residence was used primarily as storage space for the Clark and UCLA main libraries. Unfortunately, so many items were stored in the house that its structural integrity was compromised. Rather than spend money to repair and restore the building, UCLA demolished it in the fall of 1971 to make room for a parking lot – an all too common occurrence in the City of Los Angeles.
While the decision to demolish the house must have seemed very pragmatic at the time, from today's vantage point it was shortsighted. According to Ms. Fenning, those who work at the library today "…wish they [the UCLA administrators] had realized what a great showpiece the house would have been for events and for housing visiting scholars." Saving the structure would have also represented a win for historic preservation in a city where far too often the past falls victim to the wrecking ball.
The Clark residence was not the only structure torn down after his death. In 1917, Mr. Clark built a freestanding observatory on the property to pursue his interest in astronomy. Years later, librarians came to view that building as an attractive nuisance because neighborhood kids were found climbing on its exterior stairs. Rather than risk an accident, UCLA demolished the structure in 1951. Fortunately, the telescopes and associated astronomical collections were saved and are now part of the UCLA Astronomy Department collections.
Today, two other buildings exist on the grounds in addition to the library. One is the gatehouse, which is primarily used for storage by the library's custodian and groundskeeper and is original to the property. The other, called the North Range, is a more contemporary structure built in 1991 and designed by Barton Phelps and Associates. It includes a conference room, warehouse, kitchen, several apartments for visiting scholars and office space for staff who work for the Center for 17th and 18th Century Studies.
If you're interested in learning more about the library and seeing it for yourself, I highly recommend scheduling a private tour. I had the good fortune to take one of these and it was well worth the time. For regular updates about newly processed collections, new acquisitions and special events, visit the library's blog, which is called the Clog.
You can also attend one of the music programs, lecture series and symposia hosted by the library that take place throughout the year. This is a wonderful way to experience the library as Mr. Clark intended.
This article would not have been possible without the generous assistance of Rebecca Fenning, Manuscripts and Archives Librarian at the William Andrews Clark Library. I greatly appreciate the time she spent answering my questions and providing me with a wealth of background information about Mr. Clark and his library.