Talk about getting an early start. At the ripe old age of 39, Hammond B3 master Joey DeFrancesco has already logged more than three fruitful decades on the jazz scene. The son of "Papa" John DeFrancesco, a respected, hard-swinging Philadelphia organist, he started playing piano and organ at four and by six was good enough to sit in at one his father's gigs. He hadn't graduated from high school yet when Miles Davis recruited him in 1988 for his band, a gig that took DeFrancesco out on the road with the trumpeter for several months.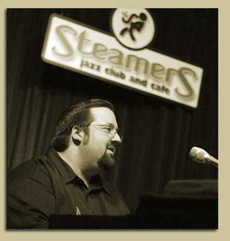 Photo via Steamers web site.
With the release of his first album at the age of 17, 1989's "All of Me" (Columbia), DeFrancesco became the prime force behind the Hammond organ's resurgence. The instrument was a jazz scene staple in the 1950s and 60s, particularly in black neighborhoods where economical three-piece organ combos held forth in bars that kept juke boxes stocked with 45s by Jimmy Smith, Brother Jack McDuff, Jimmy McGriff and Dr. Lonnie Smith (the last old school cat still on the scene). But by the end of the 70s the B3 had fallen so far out of favor that it was no longer being manufactured.
DeFrancesco ushered in a new jazz organ era, and he's maintained his status as the baddest B3 player on the planet ever since, with a stream of fiercely swinging recordings. He opens a two-night Steamers stand on Friday with veteran drummer Ramon Banda, best known for his quarter century stint with Poncho Sanchez, and veteran saxophonist Steve Wilkerson (who featured DeFrancesco on his 2000 album "A Blues Sorta Thing").
DETAILS
When: Friday, February 11 and Saturday, February 12 at 8:30 p.m.
Where: Steamers Jazz Club and Café, 138 W. Commonwealth, 
Fullerton, CA
Tickets: $15 cover (Note: Reservations are highly recommended)
More Information:
(714) 871-8800
www.steamersjazz.com
Recommended Albums:
____________
Jazz Pick of the Week is written by Andrew Gilbert. Andy is my brother and a prolific freelance writer whose primary focus is Jazz. You can find his articles in the Los Angeles Times, San Jose Mercury News, JazzTimes and many other publications. He will periodically contribute other articles to Curating Los Angeles and share his expertise and passion for the southland Jazz scene.