To help usher in the holidays, the Los Angeles Conservancy is sponsoring its sixth annual holiday film matinee. This year, you can bring the entire family to see Miracle on 34th Street (1947), starring Edmund Gwenn, Maureen O'Hara, John Payne, and Natalie Wood.
The film will screen at the Million Dollar Theater, which is part of the Broadway Historic Theatre District. According to the Conservancy, the theater "…was built in 1918 for theatre impresario Sid Grauman. The ornate Spanish Baroque interior was designed by William Woollett and originally seated 2,300 people. The building housing the theatre was designed by Albert C. Martin, with ornate terra-cotta sculptures by Jo Mora."
Since the screening takes place during the afternoon, you'll have plenty of time to enjoy downtown before and/or after the show. Visit MOCA, go ice-skating in Pershing Square, enjoy a winter afternoon tea at the Biltmore Hotel or dine at one of downtown's excellent restaurants. You can also take advantage of a special discount at the nearby Grand Central Market (download the coupon here).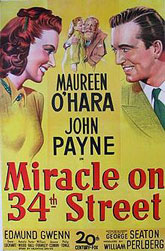 DETAILS
When: Sunday, December 4 at 2 pm
Where: Million Dollar Theatre, located at 
307 South Broadway, Downtown Los Angeles
Cost: $15 general public; $10 Conservancy members; $5 for children 12 and under
Tickets: 
Available online