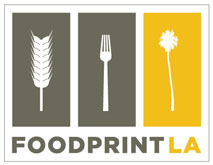 This weekend Foodprint Project returns to Los Angeles with its much-anticipated event, Foodprint LA. According to Nicola Twilley, co-founder of Foodprint Project, the event will "…explore the forces that have shaped the Angeleno foodscape and speculate on how to feed LA in the future."
Attendees can participate in a compelling set of cross-disciplinary panel discussions that will examine a range of fascinating topics, from ghost orchards to taco trucks, and from the city's century-old water grab to the eviction of South Central Farm.  I'm particularly excited about the fantastic lineup of panelists who will share their insights and knowledge during this one-day event. Just check out this list:
Program schedule:
For more information about each panel discussion and the people who will participate, visit the Foodprint LA web site and Edible Geography, another wonderful site run by Nicola Twilley. 
DETAILS
When: Sunday, December 9 from 12:30 p.m. to 5 p.m.
Where: LACMA's Brown Auditorium (5905 Wilshire Blvd., Los Angeles CA 90036)
Cost: Free and open to the public; seating is limited