November is shaping up to be an exciting month for lovers of experimental film. Three programs in particular have caught my attention because they'll present audiences with unconventional, challenging and engaging works that are unlike the more typical fair most of us experience online, in theaters, and on television.
Rose Lowder: Colorful Frames
This weekend Los Angeles Filmforum presents eight short films made by Rose Lowder, one of Europe's most influential film artists. According to Scott MacDonald, a leading historian of American avant-garde cinema, "The most memorable of Lowder's films are experiments in creating distinct visual experiences that, in their reduction of day-long phenomena into brief, precise, intense cinematic moments, sing the potential of an ecological film aesthetic." Not exactly sure what that means or how the idea or concept will translate onto the screen? Me neither, but it sure piques my interest. If you feel the same way, head over to the Velaslavasay Panorama, which is a wonderful venue located in the West Adams Historic District. Not only will you find an intimate theater when you attend the event, but the facility is home to an atmospheric 360-degree panoramic exhibition and a beautiful garden.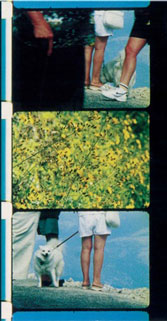 Bouquets 1-10 (1994-95) by Rose LowderNote: Rose Lowder will appear in person at this event.
DETAILS
When: Sunday, November 4, 2012, 7:30 pm
Where: The Velaslavasay Panorama, located at 1122 West 24th Street Los Angeles, CA 90007
Tickets: Available online
The Poetics of Place:
 Films by Rose Lowder
If you can't make this screening on Sunday, you'll have another chance to catch Lowder and a selection of her films the following day. That's when she'll appear at RedCat in a program titled The Poetics of Place:
 Films by Rose Lowder.
DETAILS
When: Monday, November 5, 2012 at 8:30 pm
Where: REDCAT Theater, located at 631 West 2nd Street, Los Angeles, CA 90012. Housed in the Walt Disney Concert Hall complex, REDCAT has its own street entrance on 2nd Street.
Tickets: Available online
Impulse to Archive
Two weeks ago the Museum of Contemporary Art (MOCA) opened a new interdisciplinary exhibition called Blues for Smoke, which explores "…a wide range of contemporary art, music, literature, and film through the lens of the blues and 'blues aesthetics'." As part of this show MOCA and Los Angeles Filmforum will present "Impulse to Archive," a program of short films and videos tracing "…the subterranean effect of the blues and its descendant forms on American experimental film and video." The evening will feature works by Thom Andersen, Charles Burnett, Ken Jacobs, Kevin Jerome Everson, Cauleen Smith, and more.
In person: Kevin Jerome Everson
DETAILS
When: Thursday, November 8 at 7 pm
Where: MOCA Grand Avenue, Ahmanson Auditorium, located at 250 South Grand Avenue Los Angeles
Cost: 

$12 general admission; Free for MOCA and Los Angeles Filmforum members