Los Angeles is one of the world's great art capitals. While expressions of the energy and creativity associated with this facet of the city's cultural landscape abound, one of the most satisfying for me is an open studio event. I love seeing art where it was created and making a connection with the artist. It's a much more personal experience than viewing work on a museum or gallery wall.
One such event is the upcoming Frogtown Artwalk, sponsored by the Elysian Valley Arts Collective. The annual event highlights the work of artists, artisans and architects working in the Elysian Valley neighborhood of Los Angeles, located along the LA River.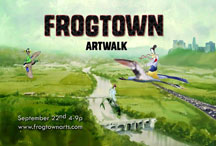 Attendees to the Artwalk will be able to visit more than 30 studios and lofts during the self-guided tour.  According to event organizers, you'll also find "…a series of mobile gallery "pods", in which artists from other parts of Los Angeles competed to show their work. The temporary galleries will line Frogtown's main street, Blake Avenue."
If you're not familiar with this part of the city and love art, this is a perfect way to experience for yourself how LA's creative and dynamic spirit is expressed in the Elysian Valley and perhaps even purchase a new work for your home or office. As for kids, bring them along too. The Frogtown Artwalk includes several events that they're sure to enjoy, such as a Hoola Hoop contest and sidewalk chalk drawing.
DETAILS
When: 22 September 2012 from 4-9 pm plus after hours events
Where: Elysian Valley (Frogtown) is bounded by the 2 Freeway to the north, the 110 Freeway to the south, the Los Angeles River to the east, and the 5 freeway to the west.
Click for a map.
Who: List of Artists