Today marks the start of the 16th Los Angeles International Short Film Festival (aka LA Shorts Fest). The event features short films from around the world and is one of the largest festivals of its kind. Since the LA Shorts Fest is recognized by the Academy of Motion Pictures Arts & Sciences, some of the films presented during the event may receive Oscar nominations. In addition to film screenings, attendees can participate in educational panels and various interactive events.
As I mentioned in a recent post on the Curating Los Angeles facebook page, a new picture called Parallel Avenue by local filmmaker Leor Baum will premiere at the LA Shorts Fest on September 8th.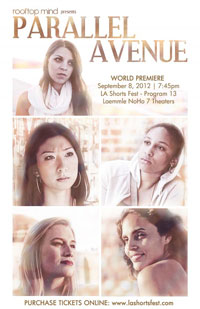 I had the opportunity to preview Parallel Avenue and was immediately drawn into the picture. Told through the eyes of five female characters and combining poetry and vivid imagery shot around the city, Parallel Avenue delves into the relationships people form with Los Angeles and the feelings they have about the city.
Like most filmmakers, Baum wants the widest audience to experience his work. However, given the personal nature of this picture and the central role that place plays in the narrative, he especially hopes to share the film with those who love LA as much as he does. As he explained, "It's important to me that fellow Angelenos who appreciate the city's life and history get a chance to discover the film."
DETAILS
When: September 6-13, 2012
Where: Laemmle NoHo 7 Theaters at 5240 Lankershim Blvd. North Hollywood CA 91601.
Tickets: Available online
Program Guide: Available online