Ever since I learned about CityFabric, I've been intrigued by its mission and products. This Raleigh, North Carolina based company was founded on the principle that when people can easily communicate to others where they live and can tell a story about that place, they are more likely "…to get involved in the decisions that determine the direction of their city."
To realize this vision of a more engaged populace, CityFabric organizes and funds small-scale, civic and social interventions. The company's first two such projects, Walk Raleigh and North is That Way, involved wayfinding and have received significant interest and attention both nationally and internationally.
To fund these projects, the company produces a line of tee shirts, prints and shoulder totes incorporating maps of various US cities. Last November I reached out to Matt Tomasulo, founder of CityFabric, to inquire when they'd issue a tee shirt with a map of Los Angeles. At that time he told me LA was on the top of their new city list, but that they were trying to figure out how to depict the country's second largest city on one of their signature cartographic tees.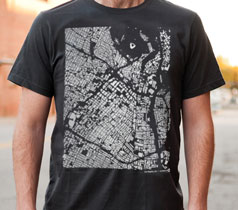 Many months went by with no word – until yesterday. That's when I learned that CityFabric just announced the addition of the LA shirt to its product line. While the regular retail price is $23, if you order by this Friday (August 17) you can save 15%.
DETAILS 
What: Los Angeles "Wear you Live" Tee-Shirt
Order: Available online
Limited Time Discount: 15% OFF – use "PDXLAX15" valid thru – 8/17/12