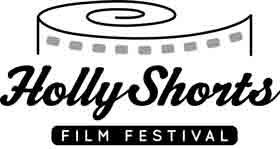 If you love going to the movies but are ready for something other than the big summer blockbusters, the HollyShorts Film Festival is for you. Now in its 8th year, the festival showcases short subject films from around the world that run no longer than 30 minutes.
HollyShorts 2012 will feature over 300 films in competition, including 50 world premieres and projects from 20 countries. According to event organizers, the festival will include "in-competition screenings of music videos, commercials, trailers, web series, documentary shorts, international projects, student shorts, action shorts, comedies, midnight horror/thriller shorts, animated shorts, drama shorts, experimental and more."
The event kicks off tomorrow night with an impressive schedule of screenings, premiers and celebrity appearances. Some of the highlights include opening ceremonies hosted by Extra TV's Ben Lyons and EPIX's Carly Steel and a special theatrical world premiere of PERIODS., an improvised comedy film series created by NY-based filmmakers Victor Quinaz, Anna Martemucci and their ensemble crew and co-produced by Zachary Quinto and his Before The Door Pictures. Joe Carnahan (Smoking Aces, The Grey) will also be on hand to accept the HollyShorts 2012 Visionary Award and introduce Zachary Guerra's The Devil's Dosh, a short film that he Executive Produced.
DETAILS
When: August 9-16, 2012
Where: Chinese Theatres, located at 6801 Hollywood Blvd. 
Hollywood, CA
Tickets: Available online
More Information:
Website: www.hollyshorts.com
Blog: www.hollyshortsfilmfestival.blogspot.com
Facebook: www.facebook.com/Hollyshorts