This weekend the Los Angeles Maritime Museum opens a new exhibition titled "STRANDED: The Twilight of the Ocean Liner." The show is comprised of 25 large-scale, black and white, photographs by Martin Cox and documents classic ocean liners nearing or at the end of their service life due to changing economics or technology. Cox, a native of Southampton, England who now lives in Los Angeles, shot all the photographs for this solo-exhibition in the US, Bahamas, India and the Philippines.
In an interview with Peter Knego published in Maritime Matters, Cox explains that he "…decided to focus on the period between about 2000 and 2005 when so many mid-century ships were dropping off the fleet lists and heading for lay up. As you know, new SOLAS [Safety of Life at Sea] laws were looming with fire safety standards becoming ever more strict, thus dooming much of the word's older passenger fleet."
The subject of this show is ideally suited to its host institution, since the Maritime Museum is dedicated to preserving the history of Los Angeles Harbor, which has provided regular passenger service since the 1920s and is the nation's busiest container port. I encourage those who are interested in shipping history and photography to visit this exhibition. I'd also recommend taking in the museum's other exhibitions, which explore such topics as the history of commercial 
and 
fishery diving 
in southern California and the variety of decorative objects made by sailors who spend days and months aboard ship.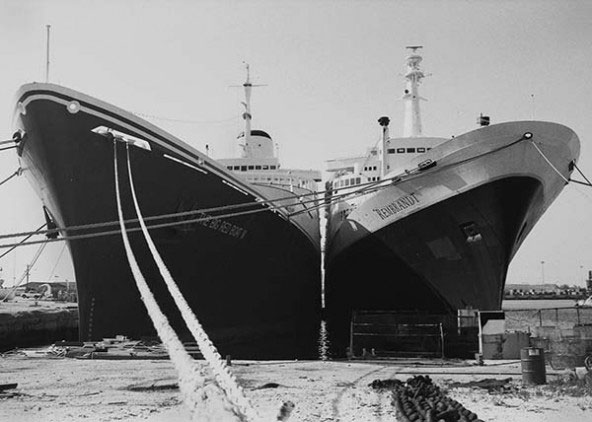 Laid up liners, Freeport, Bahamas (ex RMS TRANSVAAL CASTLE and SS ROTTERDAM in 2001) photo © Martin Cox
DETAILS
When: June 16 – September 30, 2012
An artist's reception will be held on June 16 from 2:00 – 4:30pm
Museum hours are Tuesday – Sunday 10am- 5pm.
Where: Los Angeles Maritime Museum located at Berth 84, Foot of 6th Street (aka 600 Sampson Way, San Pedro CA 90731)
More Information:
Tel: 310-548-7618
Web: www.lamaritimemuseum.org
Facebook: www.facebook.com/LAMaritimeMuseum
Related Publications:
Exhibition Catalog