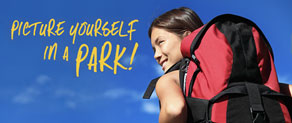 There are 397 national parks in the United States, which together consist of 84 million acres of spectacular scenery, historic landmarks and cultural treasures. Twenty-six of these parks are located in California and of those, five are in the southern part of the state.
Starting tomorrow, you have the opportunity to experience the beauty of these natural wonders without having to pay the normal park entrance fee. It's all part of National Park Week, a nationwide celebration organized by the National Park Service and the National Park Foundation.
Whether you enjoy hiking, taking nature photographs, birding, or just spending time outdoors, what better time to plan a get-away. As you'll see from the list of southern California parks below, your choices are varied – islands, mountains, desert? It's really up to you.
Santa Monica Mountains National Recreation Area
If you're willing to go a little farther from Los Angeles, there are several other parks that I recommend, such as Death Valley National Park and Manzanar National Historic Site. Spend some time on the park-finder to better understand your options.
DETAILS
When: April 21-29, 2012; 
Free Admission All Week!
Where: Nationwide. See the online park-finder here
More Information:
National Park Week Brochure