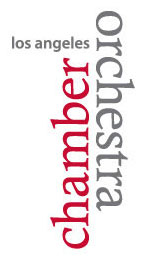 It's always fun coming across people playing music when and where you least expect it. Whether at a park, the beach, a street corner or some other location, music enlivens a space and brings people together. For those with the talent and inclination, it's also a pleasure to spontaneously create music and share it with others.
Building on those ideas, the Los Angeles Chamber Orchestra (LACO) is sponsoring a county-wide, free public art installation called "Play Me, I'm Yours," which culminates LACO's season-long celebration of acclaimed Music Director and pianist Jeffrey Kahane's 15th anniversary with the Orchestra. Originated by British artist Luke Jerram, the event will feature 30 decorated pianos placed in a variety of high-traffic public locations for Angelenos to play 24/7.
"It's a great pleasure to work with the Los Angeles Chamber Orchestra to present my art project," said "Play Me, I'm Yours" creator Jerram. "This is by far the most ambitious presentation of the installation to date. I hope the public enjoys the project and takes advantage of the opportunity to perform, express themselves and go out and play."
LACO will place pianos in Downtown Los Angeles, San Gabriel Valley/The Foothills, Santa Monica/Westside, Hollywood/Mid-City, South LA/Harbor area, the Eastside, and the San Fernando Valley. A complete list of locations is available here.
While this event is largely about facilitating spontaneous music making, its reach extends beyond the musical realm by tapping into the talent of the local arts community. LACO has enlisted the help of numerous local artists "– celebrated and amateur, children and adults, able-bodied and disabled – to add visual punch to the installation by using the pianos as three-dimensional canvases to create one-of-a-kind works of art."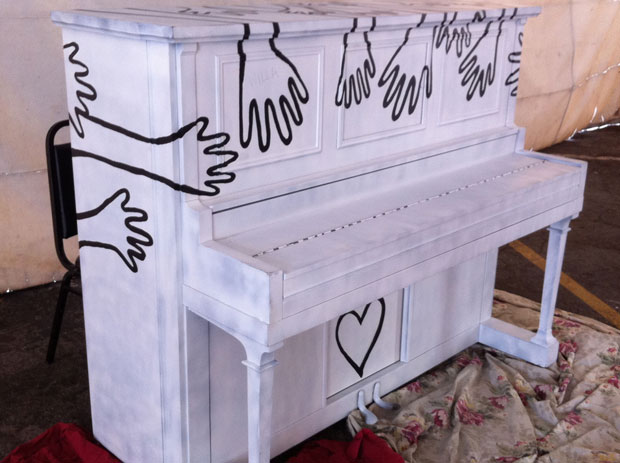 Design by LACO staff member Caroline Shuhart. Painted by LACO children and staffers. Photo by Lacey Huszcza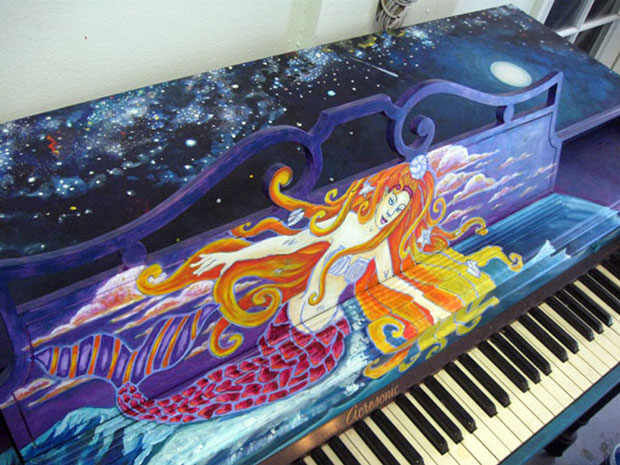 Design by Raoul De La Sota and Pola Lopez, Avenue 50 Studio
To link "Play Me, I'm Yours" Los Angeles to other streetpiano events held worldwide, the project includes a dedicated website – streetpianosLA.com – where anyone may upload videos and photos of themselves interacting with the pianos. Those materials become a part of the virtual community of streetpianos internationally.
The event kicks off next Thursday, April 12th with a simultaneous performance of the Preludes from Bach's The Well-Tempered Clavier, Book 1 on all 30 pianos. Celebrated musicians Jeffrey Kahane, Grant Gershon, Mark Robson, Lucinda Carver, Rueibin Chen, Derek Bermel , along with promising local music students will participate in the launch.
DETAILS
When: Thursday, 12 April, 12 noon – Thursday, 3 May
(Pianos are on display and accessible for the public to play 24 hours a day, 7 days a week)
Where: 30 sites across the Southland
More Information:
Available online at streetpianosLA.com and "Play Me, I'm Yours" Los Angeles, or by phone 213.622.7001