Today the LA Conservancy begins selling tickets to its members for the 26th Annual installment of Last Remaining Seats (LRS), the hugely popular festival that brings classic films and live entertainment to historic theaters in the LA area. I've attended this event in the past and always had a great time. Not only do you have the opportunity to watch wonderful films on the big screen, but you'll experience them in some of the most beautiful movie palaces ever built in this country.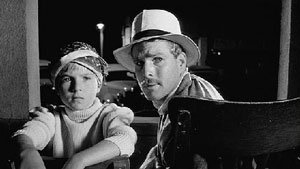 Still from Paper Moon. Image via LA Conservancy web site.2012 LRS Lineup (subject to change)
Wednesday, May 30 at 8 pm
Los Angeles Theatre (1931), Downtown L.A.
Paper Moon (1973)
Wednesday, June 6 at 8 pm
Orpheum Theatre (1926), Downtown L.A.
Tootsie (1982)
Wednesday, June 13 
at 8 pm
Los Angeles Theatre, Downtown L.A.
The Big Sleep (1946)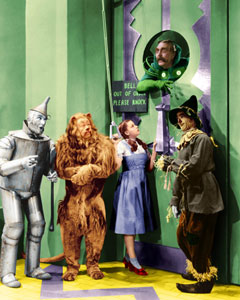 Still from The Wizard of Oz. Image via LA Conservancy web site.Wednesday, June 20
 at 8 pm
Million Dollar Theatre (1918), Downtown L.A.
Los tres mosqueteros (1942)
Co-presented with the Latin American Cinemateca of Los Angeles
Wednesday, June 27 
at 8 pm
Orpheum Theatre, Downtown L.A.
Robin Hood (1922)
Saturday, June 30
Saban Theatre (1930), Beverly Hills
The Wizard of Oz (1939), 2 pm matinee
The Wizard of Oz (1939), 8 pm evening
Although LA Conservancy members can purchase tickets for Last Remaining Seats starting today, you don't have to wait until April 11th when they go on sale to the general public. If you join the Conservancy today, you too can take advantage of the advance ticket opportunity. Not only will you ensure that you can attend the screenings that you want, but you'll have the satisfaction of supporting an outstanding institution.
As a personal aside, the LA Conservancy is one of my favorite local organizations. This member supported non-profit works hard to preserve LA County's rich architectural and cultural resources through education and advocacy. I have learned a lot about the architectural heritage of various neighborhoods and buildings throughout our region by taking its docent led tours. I've also seen first hand how it works to preserve historically significant structures in our community. That in and of itself is worth the price of membership in my opinion.

DETAILS
When: Wednesday evenings, May 30 to June 27; Plus two screenings Saturday, June 30
Where: Theaters in downtown LA and Beverly Hills (see above)
Tickets: Available online
More Information:
If you're not a member of the LA Conservancy, you can join today online.