Last May LACMA held the inaugural west coast screenings of Christian Marclay's film, "The Clock," a work which subsequently won Marclay the Gold Lion for best artist at the 2011 Venice Biennale. The film is a cinematic mash-up that seamlessly weaves together hundreds of television and film clips into a hypnotic montage of time related imagery.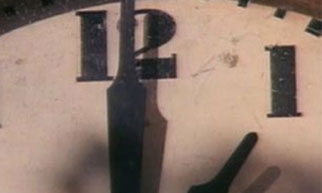 I had the good fortune to visit the museum and watch portions of this exceptional film during that first series of LACMA screenings, an experience that has stayed with me ever since. I only saw part of it because its 24-hour running time makes it nearly impossible to view the entire work in one sitting. That said, once I was in the theater I didn't want to leave, and like many others found that I lost track of time as I watched it flow by on screen.
This weekend, LACMA is presenting another 24-hour screening of "The Clock." Whether you can make it to the museum for half an hour or several hours, I highly recommend you catch at least a portion of this truly mesmerizing piece of film craft. You won't be disappointed.
DETAILS
When: March 24 starting at 12 pm to March 25 ending at 12 pm
Where: Los Angeles County Museum of Art, Bing Theater. Located at 5905 Wilshire Blvd. Los Angeles
Cost & Tickets: Free; first-come first-served, no reservations
More Information:
Take a moment to read this interesting post on LACMA's blog, Unframed, titled "Bound to the Clock." It explores the idea that "The Clock," in an uncanny and subtle fashion, illuminates how our daily lives bend to the will of time," and then goes on to examine how the museum's collections reveal a similar theme of "art bound to time."