It's not often I attend the same event in different cities, but that's exactly what I did earlier this year. In January, I transformed myself into an Edwardian cowboy of sorts and participated in the Edwardian World's Faire and the Edwardian Ball, held on consecutive nights at the Regency Ballroom in San Francisco. The following month, I donned my costume again and took part in the Edwardian Ball Los Angeles, which combined many elements of the two Bay Area events into a single night of fun, fashion, music, theater, dancing and more.
So how did the northern and southern California events compare? For starters, all shared the same participatory spirit and emphasis on creative expression. Indeed, it's the attendees willingness to embrace the Edwardian theme and make it their own through their costumes and demeanor that define the Balls and set them apart from other extravagant affairs I've attended.
Many of the same performers and vendors also participated in all three events, which further contributed to their consistent tone. Most notable among these were Rosin Coven, an eight member "pagan lounge ensemble," and the Vau de Vire Society, a self-described "avant-cabaret community," both from San Francisco. They not only co-host and produce the Edwardian Balls and World's Faire, but also collaborate on the much anticipated stage interpretation of an Edward Gorey story, which is a highlight of the Balls every year.
Despite these similarities, I was struck by how the Los Angeles Ball differed from its northern California counterparts. First off, the crowd in LA was more racially and ethnically diverse – likely a reflection of the Los Angeles region's diversity.
Then there were the costumes. While they were creative, stylish and whimsical in both locales, the finery seemed more extravagant and varied in LA. Perhaps this was because Los Angeles is an entertainment and fashion capital where dressing up is a big part of those two industries. Or maybe it was because the Ball is still a relatively new event in Los Angeles and therefore generates a greater sense of adventurism and experimentation. Whatever the reason, the results were impressive. Here's a small sampling of the costumes on display that evening.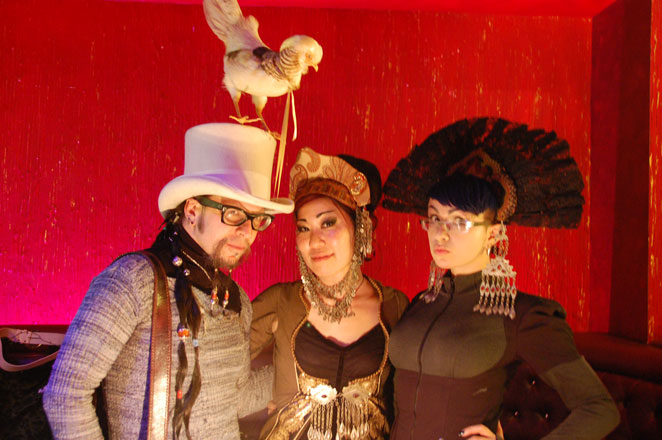 2012 Edwardian Ball Los Angeles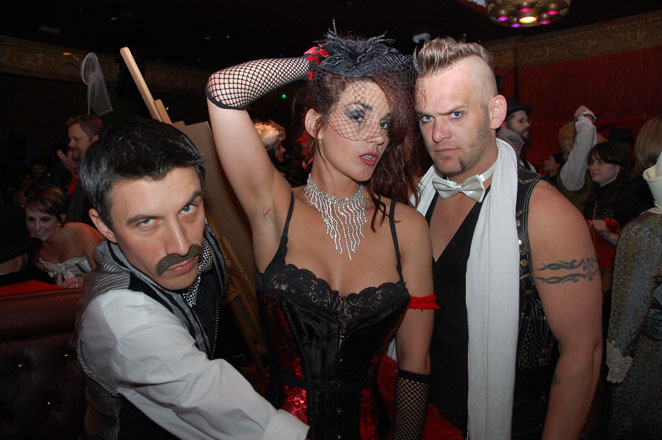 2012 Edwardian Ball Los Angeles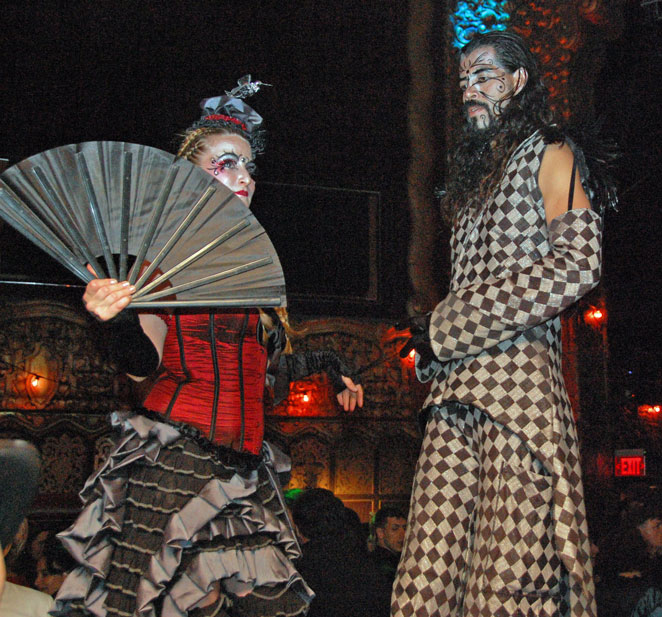 2012 Edwardian Ball Los Angeles
Another major difference between the northern and southern California Balls has to do with the venues. The Edwardian Ball Los Angeles was originally slated to take place at The Music Box in Hollywood. When that space unexpectedly closed its doors just weeks before the event, the producers had to scramble and find another location. What they came up with was the Belasco Theater in downtown LA. While the Belasco is a beautiful facility that's been extensively renovated, the space didn't work particularly well for the Edwardian Ball.
A case in point was the Museum of Wonders. At the Regency Ballroom in San Francisco, the various performers and Edwardian themed oddities that made up this unique facet of the event were situated in a series of interconnected spaces upstairs from the main ballroom. By making attendees seek out these attractions and grouping them together in richly decorated, intimate spaces, the show's producers created a sense of discovery and anticipation that significantly added to the evening's festive atmosphere. Upon first visiting this floor, you didn't know what was around the next corner.
In contrast, at the Balasco in Los Angeles, the Museum of Wonders was spread around the building and therefore didn't feel like a cohesive element of the Ball. For example, Malvoye the Mentalist, a witty, "mechanical" fortuneteller who dispensed his prognostications from an antique fortune telling booth, was stationed right inside the theater's front doors and away from any other attractions. While this certainly was a prominent location, the activity, noise and movement in the lobby detracted from the act's overall impact. You also came upon this act so quickly after entering the building that you didn't have time to first immerse yourself in the Edwardian atmosphere, something that was possible in San Francisco and helped contextualize Malvoye's act.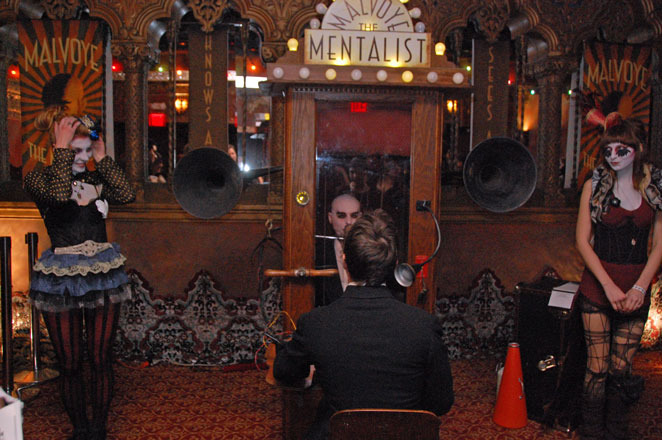 Malvoye the Mentalist at the 2012 Edwardian Ball Los Angeles
Despite the building's limitations, most elements of the Edwardian Ball Los Angeles worked well. Take for example the activities in the upstairs ballroom. While access to that space was difficult because the single entry point was in the middle of a narrow, crowded walkway lined with vendor tables, that didn't prevent people from seeking it out. In fact, once inside it quickly became apparent that it was ground zero for the evening's high-energy festivities. It's also where I felt the LA event really captured the communal, spirited vide that I found so appealing at both the San Francisco Ball and World's Faire. People were just having a great time dancing, socializing and strutting their stuff, all the while respectfully sharing space with other revelers. The joy in the room was infectious.
Although not a large space, it was packed with things to see, hear and do. Everywhere I looked was another inventive costume. There were steam-punk, Edwardian, and circus outfits, among many others. I also saw lots of corseted gowns, stunning vintage apparel, dapper top hats, elaborate makeup, feathers, and a few live animals belonging to those seeking to stand out in a slightly different way. The variety was wonderful.
On the far side of the room was a group trying their hand at pole dancing. While no one was particularly good at it, everyone was having fun giving it a try. As if that weren't enough, the upstairs ballroom was also filled with a variety of entertainment. Multi-instrumentalist, loop master, and LA street performer Super Tall Paul delighted small groups of revelers in his Silent Listening Lounge. Place one of his headphones over your ears and you were immediately privy to a semi-private concert. It was fun watching people tapping their toes and smiling as he offered up short performances to anyone who would listen. Up on stage, DJs Lushbunny and Justin Paul kept the dance party going all night and really knew how to read the crowd. I think this room was the best part of the entire LA event, an opinion shared by a number of people I spoke with that evening.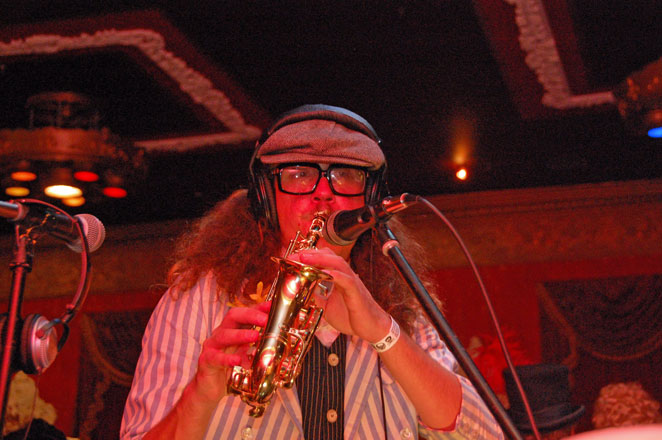 Super Tall Paul at the 2012 Edwardian Ball Los Angeles
If you missed the Edwardian Ball this year but are intrigued by my write-up, I highly recommend you add yourself to the organizers email list. I also invite you to "like" the Curating Los Angeles (CLA) facebook page, recommend the CLA Google + page and/or follow CLA on Twitter. That way, you'll hear about next year's Ball in plenty of time to clear your calendar and get your costume ready.
To learn more about the Edwardian Balls held this year, check out two posts that I wrote in advance of the Los Angeles event. One was published on January 5th and the other on January 31st.
FULL DISCLOSURE: I attended the Edwardian Balls in San Francisco and Los Angeles as a guest of Rosin Coven and the Vau de Vire Society.