Artists and musicians have long been drawn to southern California's desert communities. One arts organization doing particularly interesting work today in the Joshua Tree area is High Desert Test Sites, which explores "…the intersections between contemporary art and life at large" within physical and conceptual spaces.
Later this month and again in May, High Desert Test Sites is sponsoring a tour of A-Z West, located on 35 acres in California's high desert next to Joshua Tree National Park. A-Z West is described as Andrea Zittel's ever evolving "…test site for designs for living, where…home furniture, clothing, and food all become the [focus] of investigation in an ongoing endeavor to better understand human nature and the social construction of needs."
Those fortunate enough to reserve a space for this event will tour the A-Z West house, studio, wagon station encampment, homestead cabin, regenerating field, and shipping container compound.
 If you're looking for a unique way to experience the desert and see first hand how it has influenced one group of artists, this is it.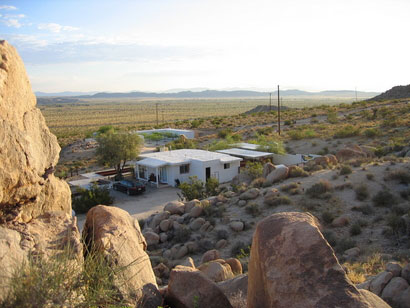 A-Z West. Photo from the A-Z West web site.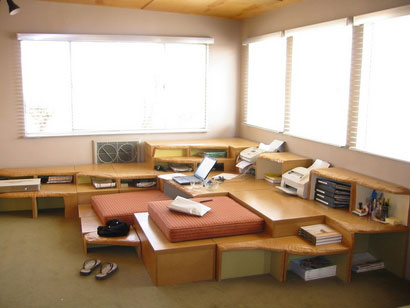 A-Z West. Photo from the A-Z West web site.
DETAILS
When:
Saturday, March 24, 2012, 12 – 2 pm
Saturday, May 26, 2012, 12 – 2 pm
Tours are approximately 2 hours and are limited to 12 people.
Where:
Visitors meet at the HDTS HQ, located at 6470 Veterans Way in downtown Joshua Tree (just off of Highway 62/29 Palms Highway, one block west of Park Blvd – right around the corner from Pie for the People). The group will depart for A-Z West from the HDTS HQ at 12 noon sharp.
Reservations: Required 24 hours in advance – email info@highdeserttestsites.com to reserve your spot.
Cost: A cash donation of $45 for adults and $30 for students is payable the day of the tour. All proceeds benefit High Desert Test Sites programming.