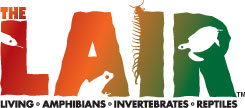 The Los Angeles Zoo's latest exhibit, The LAIR, opens to the general public today. Visitors can expect to see over 60 species of living amphibians, invertebrates, and reptiles (hence the name LAIR) from around the world housed in six themed exhibit areas that include habitats for a wide variety of unique and endangered species.
According to the zoo's web site, this $14 million facility will feature the Chinese giant salamander, the world's largest amphibian; neon green Fiji banded iguanas; the green mamba, a fast slender arboreal snake from Africa; and the Bushmaster, the largest venomous snake in the Americas; among many others. In addition to housing and displaying these amazing creatures, the new facility will provide a home for the Zoo's conservation initiatives related to reptiles and amphibians.
DETAILS
When: Exhibit opens on March 8, 2012. See below for zoo hours.
Where: Los Angeles Zoo and Botanical Gardens, located at 5333 Zoo Drive, Los Angeles.
Hours:
Monday – Sunday: 10am – 5pm
Closed on December 25
Tickets: Available online or at the zoo entrance.