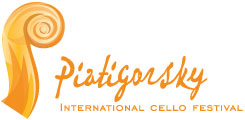 In a few days Los Angeles will host the inaugural Piatigorsky International Cello Festival, organized by the USC Thornton School of Music and the LA Phil, in partnership with The Colburn School and the Los Angeles Chamber Orchestra. This unique event is a celebration of the legendary cellist Gregor Piatigorsky (1903 – 1976), who settled in Los Angeles during the final years of this life. It's also a gathering of 22 of the world's top cellists, who will come together for a series of chamber music performances, orchestral concerts, master classes and interactive events.
Included on the festival's roster are: Frans Helmerson, Gary Hoffman, Steven Isserlis, Ralph Kirshbaum, Ronald Leonard, Mischa Maisky, Miklós Perényi, Jian Wang and Alisa Weilerstein among others. This is a rare opportunity to hear such talent at a single event and to see the close knit cello community join together in a celebration of music, the instrument, and teaching.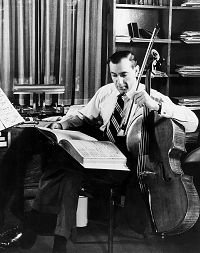 Gregor Piatigorsky. Photo from The Piatigorsky Foundation web site.
DETAILS
When: March 9-18, 2012
Where: Events will take place at the USC Thornton School of Music, the Colburn School and Walt Disney Concert Hall.
Addresses and a map available here.
Tickets: Available online
More Information:
Festival Calendar
Artist Profiles