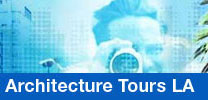 I am always on the lookout for new ways to see Los Angeles and learn about its rich history. While I love exploring the city on my own and do that as often as I can, I've found that taking a tour is an equally satisfying way to go – not to mention a good use of my time. With a knowledgeable guide, I can learn more about a particular place in a short period of time than would be possible if I just went out and wandered.
With that in mind, I recently participated in a driving tour of the Silver Lake neighborhood of Los Angeles run by Architecture Tours L.A. For those who aren't familiar with the area, it's a socio-economically diverse part of Los Angeles located about five miles northwest of downtown LA and east of Hollywood between Los Feliz and Echo Park.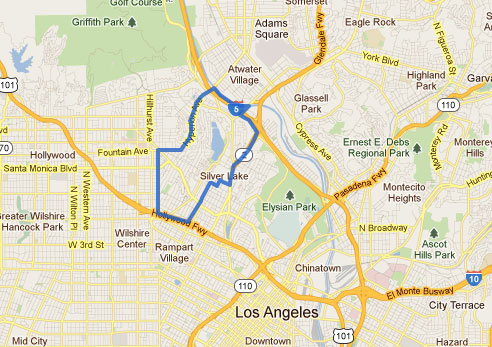 The Silver Lake neighborhood of Los Angeles.
Silver Lake is characterized by hilly terrain, narrow streets, beautiful vistas and a large number of homes designed by a veritable who's who of mid-century design, such as Richard Neutra (1892-1970), Gregory Ain (1908 – 1988), John Lautner (1911-1994), R.M. Schindler (1887-1953) and Frank Lloyd Wright Jr. (1890 – 1978; aka Lloyd Wright). The tour focused on this collection of homes.
Our guide that morning was Laura Massino Smith, who owns the company and is an architectural historian, interior designer and guidebook author. While not a native Angeleno, she has lived in the city for many years, studied its rich architectural heritage and parlayed her knowledge of and love for the city into a well-respected business.
"I decided to move to Los Angeles 26 years ago because I fell in love with the openness of the city and the creative flow of expression here," she explained. "I earned a Master's degree from Cal State LA in Art History in 1995, but all of my course work focused on the architecture of L.A. ending with my thesis subject of Postmodern Architecture in Los Angeles, which traced the development of the history of architecture in Los Angeles up until 1995."
I met Massino Smith and the three other people who joined me on the tour at 9:00 am on a Saturday morning. It was one of those beautiful, crystal clear winter days in LA that pull you outdoors and make you appreciate life in southern California. The light was bright, the colors vivid and the surrounding mountains – green from the recent rains – seemed within arms reach. A perfect day to tour the rolling hills of Silver Lake and appreciate why this area is such an ideal setting for the mid-century aesthetic characterized by open floor plans, clean lines, large and plentiful windows and lots of natural light.
After gathering near the spot where Walt Disney built his first animation studio and made Snow White, we climbed into Massino Smith's minivan and began the tour. During the two and a half hours we were together, we saw approximately 50 sites, such as the Reiner-Burchill Residence (aka "Silvertop" – 1957) designed by John Lautner, the McAlmon House (1935-36) by R.M. Schindler and the Avenel Homes (1947) by Gregory Ain.

Reiner-Burchill Residence (aka "Silvertop" – 1957) designed by John Lautner.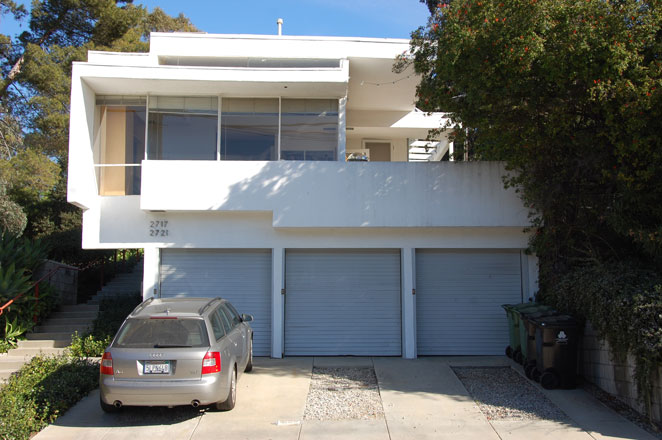 McAlmon House (1935-36) designed by R.M. Schindler.
While the vehicle used on the tour is very comfortable and easily accommodated me and the three other passengers, it's not really conducive to windshield viewing. By that I mean it was difficult, if not impossible, to see some of the buildings we drove by when I was sitting on the opposite side of the van. This was particularly true when the building was located up on a hill.
To help address that problem, Massino Smith had us switch seats during the tour and get out of the van at several points along the way. I particularly enjoyed our stop at what's known as the Neutra Colony, a collection of eight houses designed by Richard Neutra and one by him and his son Dion Neutra (b. 1926), all clustered between Silver Lake Boulevard and Earl Street. Because the houses sat side-by-side, we saw first hand how Richard Neutra refined his vision of the modern house between 1948 and 1961.
From what I could see from the street as we walked the area, my favorite structure by far was the Ohara House (1961). This well proportioned, beautifully landscaped home is on the uphill side of the street, providing excellent views of the Silver Lake Reservoir. Since we couldn't get inside the house, what struck me most was how gracefully it sits on the lot and how appealing I found the horizontal lines of the cantilevered steps that connect the house with the sidewalk below.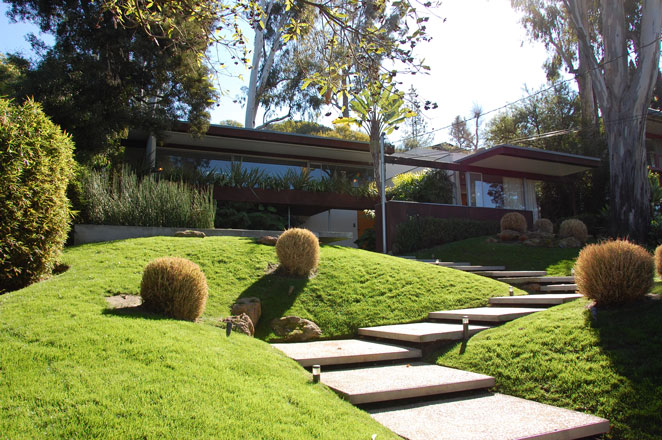 Ohara House (1961) designed by Richard Neutra.
As we drove up and down Silver Lake's winding streets, we were afforded a number of fantastic views that help explain why this neighborhood is so desirable. Around one corner we spied the Hollywood sign – around another the Griffith Park Observatory. At one point on the tour we even caught sight of the Pacific Ocean, approximately 17 miles off in the distance (yes – it was that clear). Most often, however, we found ourselves looking down on or across the Silver Lake Reservoir, after which the neighborhood was named.
The Silver Lake Reservoir is one of two "open-air" water storage facilities that are the centerpiece of the neighborhood. The other, smaller reservoir is called Ivanhoe and was named, so the story goes, after the Sir Walter Scott novel published in 1819. Both were developed by the Los Angeles Department of Water and Power in the early 1900s. The Silver Lake Reservoir was named after Herman Silver, a member of the city's first Board of Water Commissioners.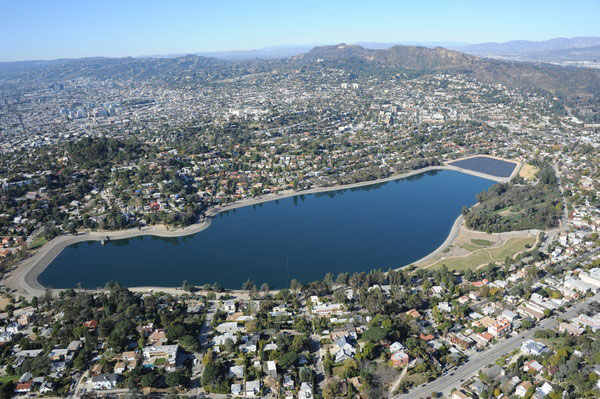 The Silver Lake Reservoir December 2011. Photo by Gary Leonard.
Massino Smith proved to be an outstanding guide. She is passionate about architecture and Los Angeles history, very knowledgeable about the buildings we visited and the architects who designed them, and willing and able to answer the many questions that I, and the other tour participants, asked her. She also was so familiar with the tour route that we travelled from one site to another with little backtracking and on streets that offered us excellent views of both the neighboring hills and the flatlands below.
When I asked Massino Smith what she enjoyed most about leading her tours, she said that it comes down to the response she gets from "…people who have never looked at the city from a historical and architectural point of view. They are amazed at the variety and quality of architecture we have here and are fascinated by the "anything goes" attitude."
While the buildings that we saw on the Silver Lake tour speak for themselves in many ways, Massino Smith did an excellent job putting them in context. She helped us understand why they were built in that area (steep hillside lots were inexpensive), how they challenged traditional principles of design and spatial characteristics, and in some cases, what they look like inside through the use of photographs.
If you're interested in learning more about Silver Lake's rich architectural heritage, I highly recommend spending a few hours with Laura Massino Smith. You'll come away with a deeper appreciation for that part of the city and a better understanding of why Los Angeles is known worldwide as a center for architectural experimentation and innovation.
Recommended Publications